Between 8/21/07 and 9/06/07, 84 professional orchestra websites were examined and ranked by how well they presented their concert schedule, sold tickets, provided organizational information, facilitated making donations, and on overall content and functionality. The 2007 Rankings witnessed a number of review firsts as well as an overall slight increase in the average score…
This is the first year the Top 10 included a ROPA ensemble and the first year three orchestras scored above 90/100. Additionally, the average score increased from 60.23 in 2006 to 61.53 in 2007, although the average letter grade for the 2007 review reminded a D-.
Keep in mind, the websites were not examined on the subjective basis of color schemes, graphics, or other aesthetic qualities except in cases where those elements interfered with functionality.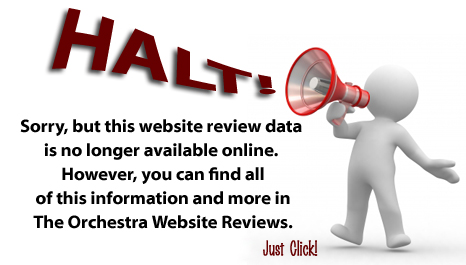 Although Nashville and Chicago continue to occupy the coveted Top 2, both organizations managed to increase their respective score over last year. Furthermore, Detroit managed to break the 90/100 barrier for the first time in the history of the Orchestra Website Reviews.
Perhaps the biggest change from 2006 is the inclusion of a ROPA ensemble in the Top 10. Not only did the Florida West Coast Symphony design a worthwhile website, this was the first year this organization was included in the review. Other Top 10 newcomers include the Pittsburgh Symphony, New York Philharmonic, and Virginia Symphony; the latter two ensembles benefiting from a well planned comprehensive website redesign from 2006.
For the fourth straight year, the overall results dispel conventional wisdom which dictates smaller budget organizations are at a disadvantage when it comes to designing an orchestra website. Instead, focusing on the core elements, as detailed in the review criteria, will increase the likelihood of designing a worthwhile website.