My whole life, I've worried that my Cleveland Browns would be in the Super Bowl the same night my hometown orchestra was performing Mahler's 9th symphony. It'll never happen, but what would I do? And why am I asking you?  And why are live performances of classical music so enrapturing, nine out of 10 members of the Secret Service prefer them to Colombian escorts?
The fact that manufactured pop what-have-you sells out shows while concert halls playing serviceable repertoire with the world's finest musicians do not, makes about as much sense as inviting your girlfriend over when you're living at home and your folks own a studio.
But take heart musicians and orchestra promoters, there's hope. A small but vocal contingent of us out here love music, support the arts, collect bobble heads of our local conductors, and occasionally perform Schumann lieder during our morning showers. Though we're not conservatory trained, we're younger than your uncles, and we're the swing voters who'll decide the future of classical music in concert.
You wanna party with us, cowboy.
For starters, do you know why a subscription concert series is never sponsored by White Castle or Victoria's Secret?
It doesn't need to be.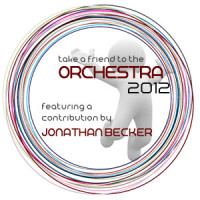 My Grandma has held season tickets to the Cleveland Orchestra since George Szell was a Mouseketeer. When I was in high school, she treated me to an open rehearsal. Richard King (Principal Horn; George Szell Memorial Chair, Cleveland Orchestra) hit a two iron to kick off movement V of the Bartok Concerto for Orchestra. The roar smacked me like Jim Brown lowering his shoulder into my gut, charging head first over me with his cleats and spiking the ball on my face.
The baton dropping is the puck dropping. No difference.
When you attend a concert, you go in with the anticipation that something important is about to happen, that tonight's show will be like no other, that the Beethoven tonight will be different than any other.
I wish orchestras were more in your face about what they do, on stage or in the pit, creating a wall of sound so strong that when it hits you it changes you, gets into the molecules of your being, affects your eating patterns, range of motion, speech.
"Hey JB, old football injury?" my coworkers would ask.
"Nah, late night of Mahler 2 with Jansons and Concertgebouw."
The focus is the music, but the excitement is the performance itself.
Hearing a major Orchestra climb the mountain of awesome and power through the finale of Beethoven's Fifth or Tchaikovsky's Fifth will blow your mind. 1808, the program notes say? No frickkin' way! The piece has more relevance to our time and place and more protein for the soul than 97 percent of the content on YouTube and everything Justin Bieber will ever do combined.
I sweat more during performances of Eroica than after successfully parlaying a Pacquiao fight with two WNBA games. And Gergiev sweats more during a Mahler 3 than Emeril after a run-in with Sriracha.
Don't change the content: Brahms is legit. Zemlinsky, too. Varese has more issues than Harper's, but we can work with it. There's so much great repertoire out there, there's no reason to get kinky: I'm sure the Labeque sisters could perform a six-hand reduction of Schoenberg's Gurre Lieder, but why on earth would you do that?
As swing voters, we want someone to engage us informally. I'll never wear jeans to a concert — this music is serious high art and nothing can change that — but don't open an adjoining hall for cocktails with 500 people after the show. Open your home, tap a keg and rap with us.
Keep the music as the centerpiece, as scripture, but have fun with everything else.
I think it's time for orchestra trading cards. You've got a Zinman '97 Aspen Festival and a Deb Voigt, Die Frau Ohne Schatten – pre-lap band? Wanna trade those for my Stephanie Jeong rookie card? No way!
And I'm still waiting for the country's best orchestras to face off in a battle of the bands: Chicago versus Philly, winner plays Cleveland or L.A.
I think this is a no-brainer. You can thank me.
And don't ever program a 5:00pm concert. We work for a living. If anything, start at 10:00pm, tell us to wear black, and then arrange a post-concert open house with some hookah and the high life.
Ever since Grandma took me to the orchestra, I've been hooked, and the only prescription is more concerts. Outpatient therapy be damned. When's the next concert?