Shortly after the election, I published a post with a quartet of simple, yet crucial, areas you can channel your energy in a way that will not only serve shared missions, but continue being a positive example to those around us. Yesterday, Vu Le published an article with a much longer list at NwB that focuses on what he thinks all nonprofits need to do differently in that wake of what he calls a new reality.
By and large, his points link back to a number of his ideas over the past few years but a few jump out and are worth highlighting:
3. We must all be engaged in advocacy. All organizations, whether direct-service or advocacy, must be engaged in advocacy in some level. All boards and staff should get training on what activities are allowable, since there is a lot of confusion about what 501c3s can do. We can certainly do a lot more than we think we are legally allowed to do…
You can say that again. The Chronicle of Philanthropy is a useful go-to resource for nonprofit legal articles but I would be remiss not to point out the string of extraordinarily useful articles at ArtsHacker, many of which are written by Joe Patti.
4. We must promote civil discourse. The rancor and division on our society has reached a new and disappointing level. We have lost the ability to empathize, to take others' perspectives even if we don't agree with them, and to disagree and provide feedback without attacking people's character or motivation…
This was pretty much the nucleus of my post from 11/10/16 and it's good to see others picking up on the same theme.
8. We must pay more attention and provide more resources to rural communities. If there's one big lesson from the election, it is that a huge segment of our community has been neglected and disenfranchised. Rural communities are often neglected when we talk about marginalized communities…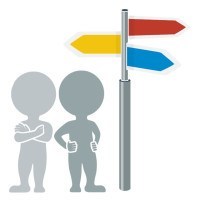 Le's area of expertise tends to focus on charitable nonprofit work but there's something here equally applicable to our field as well. On a positive note, there are far more and better funded regional orchestras now than decades prior and their cumulative reach is crucial to preventing classical music from becoming a fringe art form. In contemporary parlance, this is what "relevance" discussions are all about. But Le's point gets me thinking about what else can be done here.
To that end, how would you approach the goal of an improved rural presence?