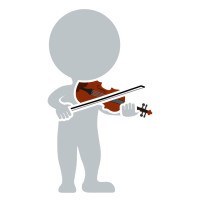 If you're looking for a meaningful way to spend a holiday Monday, I highly recommend reading the latest installment in a series of articles from Chattanooga Symphony & Opera concertmaster Holly Mulcahy about a program she started to bring classical music into a prison. She wanted to see if the music could heal, change lives, and inspire; to that end, the latest article goes a long way toward demonstrating the inherent value of classical music and its potential as a positive and relevant tool to make better communities.
What Prisoners Taught Me About Music Appreciation, Part 2 examines more of the process Mulcahy uses to go beyond performing and to make the experience more about sharing and connections between performer, composer and listener.
When prisoners listen to the music and then share their thoughts, I'm amazed, even inspired, to find new dimensions or interpretations that enhance my own point of view of the music. But it also punctuates how important music is on an individual basis. It's important to encourage minds to go wherever they need to go when listening to the music. The goal is to actively encourage results to vary.

Just like the first prison performance, this performance was a sharing of thoughts and music in both directions: composer to performer to prisoner and then in reverse. It was interesting to find out how important it was to the prisoners that I share their thoughts and interpretations with the living composers.

After playing each piece, we asked what images or stories came to mind. Wireless microphones were handed from one prisoner to another so that each could share thoughts about the pieces we played.
Read all the articles from the series.