Overcoming tradition combined with the challenge of practicality conspire to produce increasingly elusive solutions when it comes to updating musician dress codes.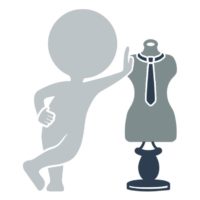 Having said that, it's always a bit irksome is when groups attempt to address the issue by throwing money at it in the form of custom designs.
Yes, it's fun to play what-if dress up with foundation dollars and quite a few of those projects over the years have produced some genuinely creative results. Unfortunately, none of them have been practical or affordable.
Nonetheless, better options are clearly rooted in a more practical approach. The problem with being practical is it means allocating time to slog through a good bit of mind-numbing detail and research.
In the end, ideal outcomes focus on not only stage appearance and artist comfort but how easy and/or affordable it is for substitutes to meet those requirements.
One notable advancement in this area is from the Seattle Symphony and a recent article by Holly Mulcahy at Neo Classical not only examines this topic but it includes Seattle's actual dress code from their collective bargaining agreement.