"R" for recording that is. The Milwaukee Symphony Orchestra has become one of a handful of orchestras across the country to kick a new digital recording distribution initiative into high gear. How did they manage to do what no other orchestras have done so far…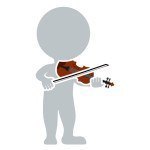 If you believe everything you read in the press from a number of orchestra managers about recording it would appear that the union has thrown up a unassailable brick wall on the issue. Fro example, The 9/16/05 issue of the L.A. Times reports a very amicable contract settlement between the musicians and the board of the L.A. Philharmonic. The article reports that L.A. Philharmonic president, Deborah Borda, claims their negotiations "were smooth, in contrast to the turmoil that has characterized recent labor relations at other North American orchestras." The article includes similar comments from Hal Espinosa, president of the Professional Musicians Local 47, "These negotiations were very amicable. We were able to talk very easily across the table. I believe both sides were as happy as you can be."
Nevertheless, the article reports that the only Ms. Borda found a problem in the negotiation process. The article quotes Ms. Borda as saying "We unfortunately are not allowed to deal with recording in our contract…that's governed by a national agreement. We have no say over it. Even if our musicians wanted to work with us on that, they're not allowed to."
However, while that comment was being circulated to readers of the L.A. times, a committee of musicians and managers at the Milwaukee Symphony orchestra managed to work out this new recording deal. So unless there's more to the story in L.A. it doesn't appear that the rules are as prohibitive as some proclaim.
In fact, one of the first major changes which relaxed recording rules came about more than five years ago with the creation of the AFM Internet Agreement. It placed many of the decisions surrounding electronic media compensation, etc. directly in the hands of musicians. In order to help better understand the agreement I asked Robert Levine, principal violist with the Milwaukee Symphony and a member of the AFM committee which created those new rules. Robert described the new agreement as follows,
"The AFM Internet Agreement, which we negotiated in 1998/99, left the issue of compensation, in many situations, up to what we called Local Internet Oversight Committees, composed of equal numbers of management and musicians. Basically the LIOC had complete control of the deal except for some things such as mandatory copy protection, no use of product to replace musicians, and the like. The one major caveat was that ownership of the product couldn't be transferred to third parties such as record companies. But, if the institution retained ownership, in most situations the LIOC could choose to waive upfront payments and go solely with revenue sharing, which is what we did.

This was not as radical as it seemed to many at the time. The AFM had been moving informally in the direction of more local control over media rates with its tacit (and then explicit) acceptance of the concept of the electronic media guarantee. The concept of revenue sharing was not completely new either; it was in both the Audiovisual Agreement and the Radio-to-Noncommercial promulgated agreement."
I asked Robert why it took so long for anyone to take advantage of the new Internet Agreement and he said,
"What was really new about the Internet Agreement was the degree of cooperation required within institutions. Basically, if management and musicians didn't agree on every aspect of the project, it didn't happen. In our case, that included control over repertoire, review of the contract with the distributor, how and when musicians were paid, and just about everything else. The only aspect we ceded control to management on was compensation of soloists and conductors, but that was our choice to do so."
All initial signs coming out of Milwaukee appear to indicate that both sides have come to a reasonable understanding on the issue, a far cry from either side blaming some other party for preventing changes the current rules.
"Needless to say, that degree of cooperation proved something of a challenge to both management and musicians, although in different ways," said Robert. "But we worked through all the issues, and it was a very healthy and positive exercise to do so. In many other institutions, however, that degree of cooperation was simply not possible."
In Milwaukee, their six member Local Internet Oversight Committee consisted of administrators John Hancock, Renee Logee, and Linda Unkefer representing management and musicians Robert Levine, Roger Ruggeri, and Samantha George representing the players.
The agreement that committee created provides for payment to musicians, conductors, soloists, and publishers on a revenue-sharing basis rather than traditional advance payments. Granted, it's a sincere asset to have someone who actually participated in creating the AFM Internet Agreement as a member of the Local Internet Oversight Committee but it also shows that agreements like this are certainly possible.
One of the final components in this agreement was finding a company to distribute the MSO's new digital e-label. The organization selected to distribute the MSO's recordings was the Independent Online Distribution Alliance. According to a statement released in a press release from IODA founder and CEO, Kevin Arnold, he's very excited to be associated with the project,
"We are thrilled to welcome the Milwaukee Symphony Orchestra and MSO Classics to the roster of IODA-distributed labels. IODA's industry-leading technology solution for licensing, metadata management, and royalty administration is a great fit for ground-breaking organizations like MSO that are charting new territory for classical music in the digital world."
Hopefully, IODA will be able to help the MSO find other online distributors who provide a better interface for classical music than the current exclusive carrier, iTunes does (an issue discussed at length in an article I published on 9/10/05).
For now, it appears that all parties involved with his new deal in Milwaukee took one look at the unassailable wall everyone keeps talking about and agreed that they were just too high to jump over. Instead, they simply walked through the door installed in 1999.
In the end, both players and managers in the MSO see the potential rewards from using the rules agreed upon for electronically distributed music:
"The Milwaukee Symphony Orchestra has always been a pioneer – in the world of new music, through innovative programming and by being the first American orchestra to visit Cuba," said Andreas Delfs, MSO Music Director. "Now a new age for classical music distribution has begun, and we are pioneers once again."

"The other important aspect is that the project has the blessing of the musicians and the union; everyone seems pretty excited about it," said MSO concertmaster, Frank Almond. "Realistically I don't think anyone expects to make millions and millions of dollars from this, but the revenue-sharing idea seems to address lots of previously cumbersome issues in a positive and equitable way. The MSO musicians quickly realized this was a great opportunity from many perspectives, and were pretty enthusiastic about its chances from the start."

"This is an important milestone both for the Milwaukee Symphony Orchestra and the American orchestra industry," said Robert Levine, MSO principal violist. "For the first time, an American orchestra is making available its archives on iTunes and other commercial download sites, finally realizing the promise of the groundbreaking AF of M (American Federation of Musicians) Internet Agreement of 2000."

"I am extremely proud of the MSO family members who worked behind the scenes to make this groundbreaking local internet distribution agreement possible," said Mark Hanson, MSO president and executive director. "This innovation is the result of significant cooperation between musicians and management, a long-standing institutional commitment to recording and radio broadcasting, and ambition to advance the organization. The MSO is excited to be the first American orchestra to distribute previously-unreleased live recordings to a world-wide audience that will soon come to appreciate the artistry of the Milwaukee Symphony Orchestra."