Stemming from the Orchestra Summit 2006 discussion panel I moderated for New Music Box, the issue of including composers in the collective bargaining agreement became in intriguing topic. That topic will be explored in more detail at Polyphonic.org from June 19-23 during their June Virtual Discussion Panel, but in the meantime I wanted to find more out about what composers thought of the idea…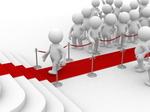 And if you want to find out what composers think without waiting for the pesky lag of email or phone calls, just head to Sequenza21, the online hotbed that touches on everything having to do with the new music scene.
I sent a note to Sequenza21 proprietor, Jerry Bowles, asking if they've ever had such a discussion there. As it turns out, this was an as of yet, un-discussed topic, so in the "Damn the torpedoes! Full speed ahead!" style he's known for, Jerry promptly started a discussion among the regulars at Sequenza21. The result is some good material there that's worth your time.
What do you think, should orchestras retain a resident composer that is connected to the musicians in a closer way when compared to traditional composer-in-residence associations (much like orchestras which have music librarians as part of the CBA)? Is it just another artistic mouth to feed? Are they a creative artistic catalyst orchestras currently lack?
I certainly have my opinions on the topic but I'll wait to put those out for general consumption until everyone else has an opportunity to express their thoughts. Then we'll juxtapose everything against the positions expressed by the composers over at S21.