Unlike the overall rankings, the Orchestra Website Review detailed ratings provide an additional glimpse into how well each orchestra performed by category…
Furthermore, this is where you'll find the additional data regarding website design, revenue, and expense reports for ensembles that responded to the Orchestra Website Review Survey. This is also where respondent orchestras will include any additional information they feel is relevant to their organization and/or the current condition of their website. All of this information is presented unedited and in its original form.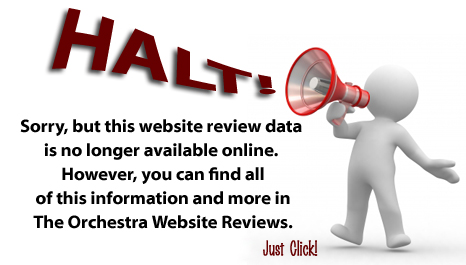 To all the orchestras that responded to the survey, you have my sincere gratitude for sharing your information. Because of your time and willingness to cooperate, every orchestra is in a better position to understand and realize the real potential of an effective online presence. Based on several of the responses, it looks like many organizations will be able to score much higher during next year's review if they are successful at implementing their expected enhancements.
Click on the name of an orchestra to view their detailed ratings. Orchestras marked with an asterisk (*) include additional information provided via the 2006 Orchestra Website Review survey.