The 2003-2004 season was a busy year for the executive shuffle among ICSOM ensembles. In fact, there was so much shuffling that almost 1/3 of all ICSOM symphonic orchestras had one or more executive receiving compensation for only a portion of the season. And then there's that thing in Saint Paul…
Where The Numbers Come From
All data presented in these reports coincide with the corresponding documentation from the 2003-2004 season. In order to provide information that is as accurate as possible, data is gathered from the following sources:
Executive Director (also called president and/or CEO) Compensation figures were obtained from their respective orchestra's IRS Form 990 for the 2003-2004 concert season.
Total Ensemble Expenditures were also obtained from each respective orchestra's IRS Form 990 for the 2003-2004 concert season.
Musician Base Salary figures were obtained from compensation records collected by the American Federation of Musicians and IGSOBM (Seattle) for the 2003-2004 concert season.
The Executive Director Compensation figures include the combined amounts reported as what the IRS classifies as "compensation" and "contributions to employee benefit plans & deferred compensation". However, each orchestra does not always report figures for the latter category. At the same time, there were some noticeable inclusions in the deferred compensation category for this season.
The Musician Base Salary figures collected by the AFM for ICSOM ensembles are done so on an annual basis and reported in a booklet entitled Wage Scales & Conditions in the Symphony Orchestra.
Adaptistration makes no claim to the accuracy of information from documents compiled or reported by external sources. If you have reason to believe any of the information is inaccurate or has changed since reported in any of the above sources and you can provide documentation to such effect, please feel free to send in a notice.
What The Numbers Don't Show
It is important to remember that the numbers shown do not always convey a complete compensation picture. For example, an executive director may have had a large increase in salary because they were leaving a position and per terms of their contract they may have received a sizeable severance or deferred compensation package. As such, the cumulative compensation may artificially inflate or reduce their annual earnings, a common occurrence for the 2003-2004 season.
Furthermore, these figures may not reflect bonuses or other incentive payments, therefore underreporting what executives may actually earn. Also missing from the figures are expense accounts and other perks, which are rarely reported on the IRS Form 990's. As such, the cumulative compensation for executive directors may or may not be more than what is listed.
Additionally, even though there are indications noting when individuals were not employed for a full season, the documents used to gather data do not indicate how much of the season an individual received a salary.
The "Musician Base Salary" figures do not include any additional payments offered by some organizations such as voluntary outreach services, and minimum overscale and/or seniority payments, all of which are more common for ICSOM musicians as opposed to their ROPA peers. Finally, these figures do not include any of the opera or ballet organizations which are members of ICSOM or IGSOBM.

How Things Compare To Last Year
According to these figures, the average ICSOM executive director earns 398% more than an average ICSOM base salary musician.
Compared to the figures from the 2002-2003 season, the average ICOSM executive director's increase in compensation was cut nearly in half, down from 10.61% to 5.81%. Nevertheless, even with this reduction they still managed to outpace the average ICSOM base salary musician who saw their increase in compensation fall from 3.83% down to 0.76% from 2002-2003 to 2003-2004.
For the first time in the history of ICSOM executive directors, one individual's compensation exceeded the $1,000,000 mark.
Who Earns The Most?
These numbers were thrown off a bit due to the executive shuffle syndrome for this season. For example, the Cleveland Orchestra paid out $1,722,416 for chief executive leadership. However, that figure is divided between two individuals; outgoing executive, Thomas Morris, received $1,350,034 and incoming executive, Gary Hanson, received $372,382. Nevertheless, here's the breakdown for 2003-2004:
Cleveland Orchestra's Thomas Morris earned $1,350,034
Los Angeles Philharmonic's Deborah Borda earned $839,169
New York Philharmonic's Zarin Mehta earned $763,110
Atlanta Symphony's Allison Vulgamore earned $542,437
Boston Symphony's Mark Volpe earned $462,043
Who Gained The Most?
Due to the large number of executives moving in and out of positions, this category isn't exactly an exercise in precision. For example, you might have noticed that the average percentage increase/decrease for executive directors in the chart above was left blank. Nevertheless, it is still possible to identify some of the executives who earned sizeable gains for the 2003-2004 season:
The Saint Paul Chamber Orchestra increased executive compensation by 30.27%
The Colorado Symphony increased executive compensation by 28.31%
the Atlanta Symphony increased executive compensation by 16.29%
The Los Angeles Philharmonic increased executive compensation by 12.61%
The Honolulu Symphony increased executive compensation by 10.00%
A Curious State Of Affairs In Saint Paul
Among all the changes in executive compensation during the 2003-2004 season, perhaps the most curious situation occurred in the Saint Paul Chamber Orchestra (SPCO). From the 2002-2003 to 2003-2004 season, the SPCO cut its total expenditures by nearly 10% ($961,610 to be exact).
One category that suffered the most from those cuts was the musicians as their base salary plummeted from $65,740 to $55,060. Nevertheless, their long time president and managing director (a.k.a. executive director), Bruce Coppock, received the largest percentage increase in pay out of all ICSOM executive directors for this particular season.
This seemed like a peculiar situation that warranted going back over the base musician salary and executive compensation figures for a few years prior to the 2003-2004 season to see how things have changed over that time. The charts below show the changes in executive compensation and musician base salary as well as the percentage increase or decrease from the previous season (although not listed in the corresponding chart, the compensation and base salary figures from the 2000-2001 season needed to complete the percentage increase listed in 2001-2002 column are $226,024 and $59,394, respectively):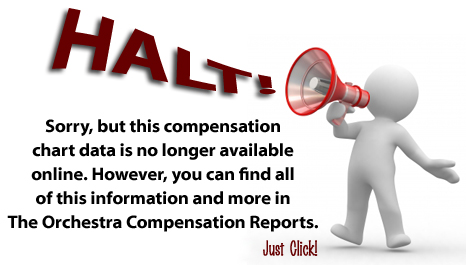 The data indicates that there was no leap in base musician salary similar to that experienced by their president and managing director in the 2003-2004 season prior to when the organization began to experience severe financially difficulties. Nevertheless, the SPCO's executive administrator accepted a $72,968 increase in compensation at that same time when the musician base salary was reduced by $10,680.
The chart below illustrates the SPCO's change in executive compensation and base salary from the 2000-2001 to the 2003-2004 season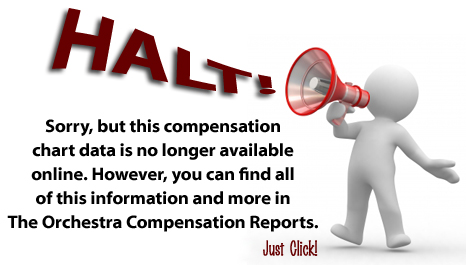 It will be interesting to see what is in store for the SPCO's figures from the 2004-4005 season (which will be reported here around June, 2007).
Conclusions
The 2003-2004 season proved to be a fruitful year for ICSOM executive directors. Although the average increase in ICSOM executive compensation wasn't as much as in previous years (some of which witnessed double-digit growth), they still managed to stay far ahead of the rate of inflation. In fact, there was only one executive director who worked a full season and earned less than $100,000 (Alabama). Furthermore, Total Ensemble Expenditures for the 2003-2004 season grew at a rate of 2.61%.
Based on all of those terrific figures, one might think the business did very well in that season to reward so many executives. Nevertheless, that wasn't necessarily the case. For example, the average ICSOM Musician Base Salary decreased, perhaps the first average decrease in a decade or longer, by -0.02%. Additionally, the change in average ICSOM Musician Base Salary from the previous season was at the slowest rate of growth in over a decade (0.73%).
Consequently, it will be interesting to see how the average ICSOM Music Director and Concertmaster compensation stacks up in the remaining 2006 Adaptistration Compensation Report articles this week.
In the end, the 2003-2004 season is far enough in the past that most organizations should be able to have enough hindsight to determine if these executive increases have produced the comparable results most executive board members must have hoped would come about. Once again, much of the discussion surrounding executive compensation boils down to value and accountability; all of which were initially presented in the ROPA Executive Director report's concluding section.