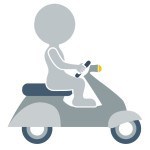 I'll be arriving at the National Performing Arts Convention this afternoon around 12:00noon-1:00PM local time and I'm looking forward to seeing old friends and getting to meet people I've been emailing for years but have never met face-to-face. For those of you attending the conference and are as torque off as I am that the $9.99/day fee for Wi-Fi access doesn't include the floors where most convention activities are being held, know that you can obtain complementary Wi-Fi access with the purchase of a cup of coffee at the Peaberry Coffee located at the North-East end of the same block as the Hyatt (map). I gave the shop a call to verify the Wi-Fi service and they reported that they are good to go. If anyone else knows of something in the immediate vicinity, post a comment below.*
Otherwise, don't forget to attend The Online Salon Movement
session tomorrow from 4:30-5:45pm in Room 303. If you're interested in meeting to talk business, say hello, or get one of my oh-so-cool minicards, call my cell phone at 708-990-0408.
*To all iPhone users who have internet access embedded into their service and a phone worth using to surf the web and check email: iEnvy you.