Following the Canadian Orchestra Website Review, Calgary Philharmonic Bassist (and TAFTO 2008 contributor), Matt Heller, posted an article at his blog the other week which questioned the value of posting contact information for musicians. Based on the parameters Matt approached the topic I would agree with his conclusions, especially with regard to obligating musicians to provide personal information. I'm glad Matt posted his article as it sums up the frustrations I hear from orchestra managers working on a project that requires requesting information from musicians for the organizational website…
Matt and I enjoyed a productive comment exchange at his blog and I wanted to elaborate on this more by offering some tips on how to make the process as productive, positive, and inclusive as possible.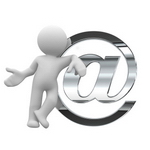 The project should be divided into two primary components: gathering data about musicians and establishing an efficient form of communication between website visitor and musician. As the latter is typically less time consuming, we'll focus on that issue here while saving the former topic for another article.
The most basic form of communication through a website should be email. One of the most straightforward methods managers approach musicians on this topic is to simply request an email address from a musician that will then be used on the website. Unfortunately, this raises all sorts of privacy hackles among many musicians and frankly, private email addresses should only be used if that is something a musician requests.
A more productive approach is to establish an email address for each musician based on the organization's existing email client. Afterward, you can either set up a direct email link or establish a form based email page. Form based methods help marginalize spam but you can go one step more by utilizing a captcha service for either option (such as the free service used here at Adaptistration). Incoming email messages can be printed out and delivered directly to each musician or you can set up your email client to forward incoming messages to a private email address provided by the musician.
If printing out messages, per service orchestras may have to include an auto-responder notifying the sender that due to the length in time between musician services, their email message may not be received for "X" number of weeks. Regardless, all email accounts should include an auto responder notice letting senders know their message was received and it will be delivered/forwarded to the individual musician but that does not assure a response.
In order to take advantage of building better relationships with the musicians, consider approaching the musicians' representative committee (orchestra committee, players' committee, etc.) to explain the project and reassure them that no musician's privacy will be compromised. Next, review the process you used to determine the best course of action and then ask them if they have any insight on how best to approach musicians to maximize involvement beyond working through normal channels.
In general, guide each stage of the process by projecting a sincere desire to the musicians that the organization wants to augment the level they are a featured in promotional platforms. Ultimately, this will help marginalize suspicions feelings among musicians that they are being asked to "do more work without being paid."