I'm back from Seattle and right as I was heading in the door, several inches of snow and ice began pummeling the Chicago area. But that's not the only thing cold going on as more newspapers are writing articles about chilly ticket sales. The 12/12/08 edition of the Sacramento Bee is one of the latest to chronicle local events in an article by Edward Ortiz…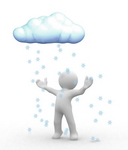 Recently, Ron Spigelman over at Sticks and Drones examined this audience development issue during times of crises from the perspective of outreach and he has some excellent observations. In general, he observes that the tendency among some organizations in this business to enact measures to marginalize or reverse sudden, adverse changes in the operating environment only to go right back to older habits once the climate has stabilized.
As it was, I watched Charlie Wilson's War for the first time the evening before reading Ron's piece. If you aren't familiar with the movie, the synopsis from imbd.com reads "A drama based on a Texas congressman Charlie Wilson's covert dealings in Afghanistan, where his efforts to assist rebels in their war with the Soviets have some unforeseen and long-reaching effects." Long-reaching effects indeed.
I couldn't help but notice the movie's "moral" which was summed up by the following quote from the Charlie Wilson (warning, profanity ahead):
"These things happened. They were glorious and they changed the world… and then we fucked up the endgame."
It isn't hard to see how that same process can be applied to a number of areas in this business. Ron touched on the topic with outreach while one area I often focus on is ticket prices. Some in the business secure necessary funding to institute subsidized ticket prices from time to time but eventually goes right back to older ticket pricing strategies. Is it a surprising then to see that endgame produces the same result?
Postscript: I thoroughly enjoyed Charlie Wilson's War but I highly recommend watching The True Story of Charlie Wilson (History Channel)

before watching the movie. I was fortunate to watch this feature when it was originally broadcast and it provides information left out in the movie that is critical to following the plot.