Thanks to Daily Observation's blogmaster (and Oregon Symphony Assistant Principal Violist), Charles Noble, for selecting Adaptistration as one of the five blogs to receive a Premios Dardo Award. I'm not entirely certain what a Premios Dardo Award is and even a Google search didn't offer much additional insight. Nevertheless, from what I gather, it is something like a chain award and a fun way for an individual to recognize five blogs he/she finds useful…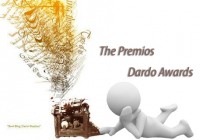 In addition to Charles, I noticed that Abu Bratsche's blogmaster (and self described Milwaukee Symphony Lead Viola Operator), Robert Levine, listed Adaptistration as well. I'm enormously grateful to find that other notable bloggers of this caliber find Adaptistration worth mentioning and it seems that acceptance is conditional on the following conditions:
Accept the award, post it on your blog together with the name of the person that has granted the award and his or her blog link.
Pass the award to five blogs that are worthy of this acknowledgment. Remember to contact each of them to let them know they have been chosen for this award.
So in order to comply, here are five culture blogs that I check out on a daily basis. I don't claim that they are favorites as I have many, many other culture blogs I visit on a regular basis but after some soul searching, I attempted to narrow it down as diverse a grouping as possible*.
Alex Ross: The Rest Is Noise (c'mon, how could he not be at the top of this list!)
Lisa Hirsch: The Iron Tongue of Midnight (great example of local and broad-based cultural writing)
TIE (i.e. a copout to list more than five blogs): Marc Geelhoed: Deceptively Simple & Matthew Guerrieri: Soho the Dog (the intersection of clever and hip)
Jeremy Denk: Think Denk (it's always good thing to wallow around in multisyllabic goodness)
Patty Mitchell: Oboe Insight (she always puts a smile on my face)
So there it is. Granted, it's not a very surprising list but it is my list nonetheless. If you want a more complete picture of blogs I visit on some sort of a regular basis, visit Adaptistration's Big Roll of Blogs.
*For the record, I would certainly list all of the blogs authored by my Inside The Arts neighbors (just check out the list in the left hand column) but since that's a clear conflict of interest I've left them off of this list. Likewise, decorum would seem to dictate that I shouldn't list either of the author's that originally listed Adaptistration, although they most certainly would have ended up on a short list.
---