I don't know if anyone has ever investigated any potential link between opera and Star Trek fans but after watching the 1/25/2009 episode of Robot Chicken it might be a worthwhile effort (if you don't already know what Robot Chicken is, it takes too long to explain – just go here). Leave it to the creative duo of former ToyFare Magazine editor Matthew Senreich and actor Seth Green (you know, Dr. Evil's son in the Austin Powers films) to imagine Star Trek II: The Wrath Of Khan as an opera then bring it to life by way of stop-motion action figures. The end product is hilarious yet inspirational…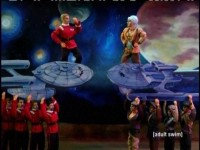 Frankly, I thought the show's creators did an imaginative job at envisioning how the opera would unfold staged as a live action opera. Granted, they insert some obvious gags like carrying the "starships" and unrolling the backdrop but hey, I've seen far worse production values onstage at serious opera productions so for my money, this has some real potential.
Yes, Robot Chicken is a comedy show and yes, you're watching stop-motion action figures but once you get past that there's something here worth considering. Forget video game music concerts and warmed over Star Wars pops concerts as a way to bridge audiences; instead, a well written opera based on Star Trek II: The Wrath of Khan would not only end up a likely moneymaker (assuming licensing fees aren't prohibitive) but it would certainly introduce an entirely new audience to opera.
All that's left is casting.
Live Long and Sell Subscriptions…
---