As we slide past the second full week of the new administration and observe boisterous debate about economic recovery plans every day, the overall impact of these events have had mixed effects on cultural confidence levels. On one hand, respondents feel better about current economic conditions (although the prevailing sentiment is "negative") but the outlook toward economic conditions at the end of the season remained firmly pessimistic…
As the chart below illustrates, the numbers of respondents feeling that economic conditions at the end of the season will be "poor" or "only fair" appear to be crossing from their greatest point of separation at 12/14/2008. For the second polling cycle in a row, zero respondents feel that economic conditions will be excellent and those feeling conditions will be good increased a marginal amount.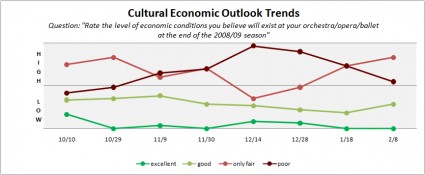 Although the final economic stimulus package is undecided, the current incarnation includes large cuts for federal arts funding. It will be interesting to see if these decisions and the approved package have any impact on this polling cycle. As a result, keep your eyes on the news and take a moment and cast your vote for the current polling cycle: VOTE NOW.
---