The first two articles in this series examined reader demographics as well as media and culture habits along with blogging and online habits. This final article will examine how readers have been interacting with Adaptistration along with reviewing topic suggestions and which culture blogs, besides Adaptistration, respondents visit most frequently…
SECTION #4: OBSERVATIONS AND OPINIONS REGARDING ADAPTISTRATION
QUESTION: WHEN DID YOU START READING ADAPTISTRATION?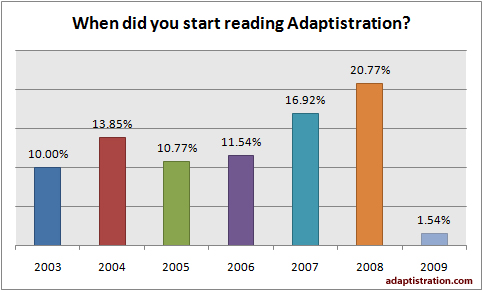 Analysis
With the exception of a bump in 2004, incoming readers have steadily increased each year with the largest gains occurring in 2007 and 2008. When compared to results from Section #3, it seems that although most respondents started reading blogs in 2004 and 2005, they didn't make their way to Adaptistration until a few years later.
QUESTION: DO YOU SUBSCRIBE TO THE ADAPTISTRATION WEEKLY EMAIL SUMMARY?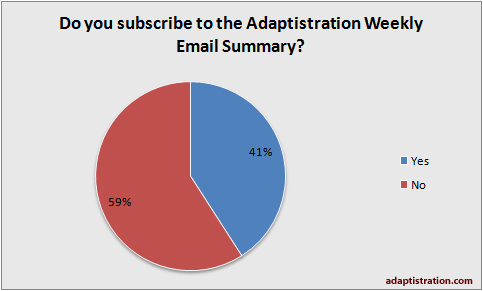 Analysis
Compared to the data from Part 2 which asked readers about their RSS habits, the ratio of Weekly Email Summary subscribers is exactly what one might expect. Although most studies indicate that RSS (and RSS based newsreaders) will eventually overtake direct email as a preferred medium for newsletter style digital communication, the transition period will likely take a few more years.
QUESTION: HOW DID YOU FIND ADAPTISTRATION?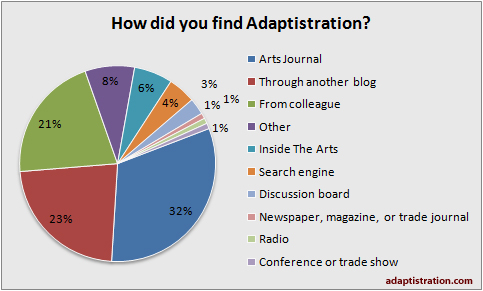 Analysis
No real surprises here. Given that Adaptistration was located at Arts Journal for several years prior to moving to an independent server, it should come as no surprise that a third of readers found Adaptistration through that avenue. At the same time, the fact that a much larger percentage of readers found the blog through word of mouth or via a post at another blogger demonstrates the value of maintaining quality content as compared to association.
Of those who selected "other," the vast majority indicated they couldn't remember how they found the blog but cross tabulating indicates that 100 percent of those respondents indicated they have been readers for at least three years.
QUESTION: RANK YOU LEVEL OF INTEREST IN THE FOLLOWING TOPICS: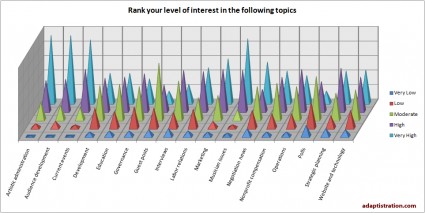 Analysis
According to this information, the majority of respondents are most interested in Current events, Musician issues, Audience development, Artistic administration, Marketing, Labor relations, and Strategic planning. This is likely unsurprising since these topic categories comprise most of the core issues at any performing arts organization. Conversely, it was surprising to see much lower levels of interest regarding guest posts and interviews. Although those categories comprise a very small fraction of Adaptistration's content, they typically generate much higher than average levels traffic.
When cross tabulating results, those identifying themselves as managers or board members were most interested in Artistic administration and Current events. Musicians shared similar interests as well as Musician issues (no surprise there) whereas Patron's interests were spread much more evenly across all topic categories.
QUESTION: BESIDES ADAPTISTRATION, LIST UP TO TEN OF YOUR FAVORITE CULTURE BLOGS: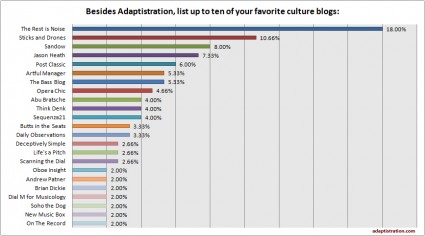 Analysis
No real surprises that Alex Ross' excellent blog, The Rest Is Noise, dominated the list. Similarly, the remaining outlets are comprised of the usual culture blog suspects although there is a strong partiality toward other arts management related outlets. Personally, I'm pleased to see a strong showing among other Inside The Arts blogs including Butts In The Seats, Jason Heath's blogs, Scanning The Dial, Brian Dickie, and Sticks and Drones which came in as the second most popular option among respondents.
QUESTION: LIST UP TO 10 OTHER TOPICS YOU WOULD LIKE TO SEE COVERED?

The following list is a compilation of specific topics listed by respondents (listed alphabetically):
Artists, arts organizations and venues working together
Arts and effect on local economy, jobs
Arts funding
Arts management training
Board development & education
Broadcasting
Concert hall issues, especially orchestras that don't have one
Concerts on the web
Cost effective pops programming
Creative uses (in practice) of new media
Cultural relevance of classical music
Evaluation criteria for staff and MDs.
Follow up on labor issues (strikes, lockouts)
Fundraising (corporate, grants, government, etc.)
Growing audience appreciation for more challenging rep
Holding effective searches for MDs and administrative staff.
Leadership transition
National endowment for the arts
New music issues
Organizational change
Performance rights
Psychosocial stressors of performers
State arts councils
Youth and arts engagement
Analysis
These are all great suggestions; as always, every effort will be made to cover as much material as possible. Cross tabulating indicates that more than a quarter of respondents listed at least five topics they would like to see covered while nearly half listed at least one.
Observations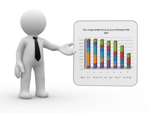 In addition to RSS, offering an email based summary option is well worth the effort.
The levels of Weekly Email Summary subscribers indicate the need to query next year's respondents about visit frequency.
Word of mouth continues to be a powerful reader development tool.
Cross-blog activity has just as much reader development potential as word of mouth.
Numbers of new readers increased to the highest levels ever after Adaptistration moved to an independent server.
Readers have no shortage of ideas for future topics.
Finally, the survey concluded by providing an opportunity for respondents to offer comments. I sincerely appreciate the number of readers offering their thanks for covering specific topics along with general appreciation for this blog; it is always encouraging to hear offers of support. Likewise, I appreciate the many suggestions covering everything from content to blog design. I'll do my best to incorporate as much as possible over the coming year.
Ultimately, feedback is a critical component for most successful blogs so thanks to everyone who took part in the survey and thanks to everyone that makes Adaptistration a part of their online routine.