It's 5:30a.m. and he's sound asleep. It's his first week in what will likely be his home for the rest of his life. At precisely half past the hour ________ begins playing through a pair of speakers that have no volume or setting controls. His eyes snap open and another day begins.

The "he" in this scenario is none other than Berne Madoff and day long playlist is determined by anyone willing to buy air time…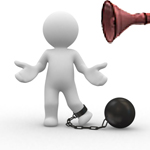 While watching news coverage of Madoff being sent to jail yesterday, my wife came up with what could potentially become one of the most lucrative new revenue streams for orchestras in the new economy. Imagine a partnership between Madoff victims and orchestras where 16 hours of Bernie's days are filled with music selected by anyone willing to purchase time in five minute blocks and you tune in via pay per view webcam. Proceeds would be divided between two funds: one to restore victim's capital investments and one to benefit performing arts organizations.
Certainly, being forced to listen to classical music isn't a punishment in and of itself. Instead, the concept is summed up by the actions of a judge in Urbana, Ohio who rendered a $150 fine to a man for playing rap music too loudly on his car stereo but offered to reduce that to $35 if he spent 20 hours listening to classical music. The judge said her idea was to force the convicted man to listen to something he might not prefer, just as other people had no choice but to listen to his loud rap music.
Likewise, since Madoff forced others to ultimately lose control over their quality of life and defraud charitable organizations, it makes sense for him to experience likewise and have that translate into revenue for nonprofit groups. Ultimately, it is fair and fitting that he loses control over much of how his remaining waking hours are spent.
Since it certainly can't be considered cruel or unusual punishment and will contribute to making the victims whole while simultaneously benefiting society by introducing a new revenue stream to the arts, it is a sure fire win-win.
Here's Where You Get To Have All The Fun

Send in a comment and share:
what you want Bernie to hear.
when you want him to hear it.
why you selected that music and time.
Keep it simple and remember, this has nothing to do with the subjective "good music/bad music" arguments and everything to do with appropriateness. As one of my conservatory theory professors was fond of saying "The final movement of Beethoven's Fifth played at full volume by your apartment neighbor at 3:00a.m. isn't music, it's noise."
As for me, I would like to purchase ten minutes of time for back to back installments of the first movement from Mozart's Eine Kleine Nachtmusik performed in Bluegrass style on fiddle, banjo, guitar, mandolin, bass, and pedal steel guitar (with all the repeats). Just like this version:
[audio: 01_01_allegro_from_eline_kleine_nachtmusik.mp3]
Sweet dreams, Bernie…
---
Gerald Jay Markoe
"Allegro From Eline Kleine Nachtmusik" (mp3)
from "Mozart For Creativity"
(Astromusic)

More On This Album