Here's some good news to start your week: the latest cultural confidence polling cycle indicates things are looking up for the first time in several months. In particular, the numbers of respondents indicating current economic conditions at their institution are "good" is at the highest levels since polling began in October, 2008. In fact, for the first time in the poll's history, the number of respondents indicating economic conditions were "good" exceeded those indicating economic conditions were "only fair"…
At the same time, those indicating current economic conditions were "bad" still outnumbered those indicating "good" by a large margin.
Likewise, the economic outlook still favors those indicating "only fair" and "bad" over those indicating "good" by nearly four-to-one.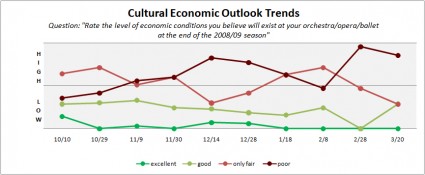 I'm not certain why attitudes have changed for the better but I'll take what I can get; however, I'm interested in hearing any theories or representative evidence indicating things are looking up at your particular organization. As such, take a moment to submit a comment and share. In the meantime take a moment to cast your vote in the current polling cycle: VOTE NOW.