Or at least that's the focus of Holly Mulcahy's latest article at Neo Classical that proposes the notion that it might be time for orchestras to consider the long tail merits of a managed referral program to aid audience development efforts. Over the last several years, I've had discussions with colleagues and clients about this idea on and off and the response has been mostly chilly. We even examined the idea back in 2004 (read) and the response was more of the same; but then again, when you're in a serious situation, it might be in your best interest to consider doing things that you might otherwise think are unacceptable…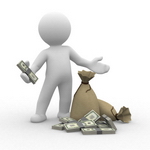 One point that caught my attention in Holly's article is when she compared effort toward the greater good bolstered by individual self interest. In a way, this drives at the heart of one of this field's greatest criticisms: expected grandeur. We're the greatest of musical art forms, above comparison and immune to competitive forces – LOVE US!
I've never bought into that ideal and being a firm supporter of meaningful mutually beneficial relationships, the idea of referral programs makes sense. Unfortunately, the devil is in the details and implementing a cost effective referral program is simply beyond the technical expertise of some organizations. At the same time, wouldn't it be wonderful to see some of the foundation sponsored initiatives devote adequate funding toward developing something like a referral program platform capable of benefiting orchestral organizations of all size and infrastructure?
I suppose it's good to have a goal. In the meantime, I'm very curious to know what readers think about this issue so go give Holly's article a read and if you have time, review the article from 2004, and then come back and send in a comment with your thoughts and observations.