The latest polling cycle indicates cultural confidence levels are sinking slowly as the percentage of respondents indicating they believe economic conditions by the end of the season will be poor increased by the largest percentage since early February. Nevertheless, it is interesting to note that with only several weeks left in most orchestra's 2008/09 season, almost fifty percent of respondents indicated that current economic conditions will slip from "only fair" to "poor" during that time span…
With only two more cycles remaining in the cultural confidence poll, it will be interesting to see if the confidence gap between the outlook on current and future economic conditions will close or if general anxiety will subside. Given the fact that many orchestras have concluded or are actively engaged in dialogue with stakeholders about temporary adjustments to compensation, that might help ease some concerns since it is fair to assume that to a degree, uneasiness is easily fueled by the fear of the unknown.
The charts below illustrate the confidence gap between respondents indicating they feel current economic conditions are currently "only fair" to those who believe they will be "poor" by the end of the season.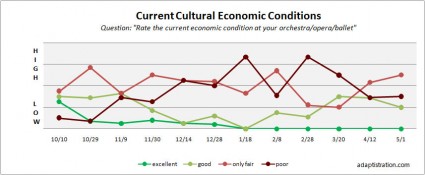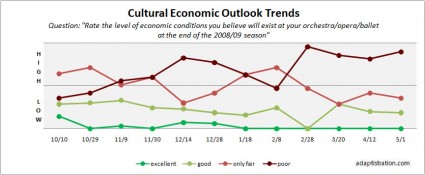 Only time will tell but in the meantime, take a moment to cast your vote in the current polling cycle: VOTE NOW.