The ubiquitous post game interview; you watch them after baseball/football/etc.ball games all the time and nothing quite beats the edutainment value of watching a good sports reporter take a coach or player to task over a less than satisfactory performance. Likewise, watching those same professionals reviewing the merits behind a win is equally enjoyable and certainly preferable to commentator/talking head game reviews. This topic became stuck in my head after reading about the trouble Proper Discord's author recounted while attending a post-concert Q&A…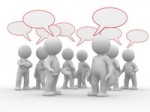 In the article, Proper Discord (I have no clue what else to call him/her since the blog is anonymously authored) asked a piano soloist and composer "If you were in charge, what would you do to improve the traditional classical concert experience?" This question was reportedly not well received and eventually answered by the soloist asking for another question.
I would have loved to see the event unfold live but moreover, I wish post-concert Q&A sessions with frank, but sincere, questions were more common. Post game interviews following sports events help accomplish many of the "breaking through barriers" type issues that are helping keep potential ticket buyers at bay. They provide an unscripted, live glimpse into the reality of wins and losses and how those professionals deal with them.
Could such an open-ended atmosphere contribute to a potentially uncomfortable environment for conductors and artists? Sure, but why is that such a big deal? After all, they already work in a field with a separate, but symbiotic, profession dedicated to critiquing each performance (or at least, any chance they can these days). Why then, should Proper Discord's question be considered apropos? What's wrong with asking musicians about what listeners hear in a concert or think about the field? In general, what's wrong with some tough questions?
I took a moment to Google some Major League Baseball post game interviews to see if tough questions popped up all that often and how professionals responded. What I found was a wide selection of interview transcripts and video footage and each one had at least a few sincere but tough questions (losers and winners alike):
Q: Your bullpen continues to struggle. What do you think about your bullpen?
A: Actually, they didn't struggle. In the eighth inning, Reitsma couldn't have made any better pitches. He just got blooped to death. The eighth inning is what killed us. It was actually a game, 5-3. There wasn't a ball hit hard that entire inning. You know, you've got to give [the Astros] credit. With two strikes they put the ball in play. That's where I give them credit, that's for sure. But he's not going to throw the ball any better than he did tonight.

Q: We all know about the Sanders home run and the bigger moments in the game, but when you replay this game in your mind later, what are the smaller moments that matter in this game to you?
A: Well, once again, our biggest man is our leadoff guy, and that's David Eckstein. Bottom of the first, he singles to get something going. He has an RBI base hit. So I would look at our eighth-place hitter, Núñez, was involved with two hits in rallies. I mean, the big stuff, we can take care of. Albert had a great at-bat on that fifth run.

Q: How disappointing is this loss here tonight?
A: Well, obviously they're all disappointing, but it's just baseball. We've done a few things during the series to either maybe give them a run or give them some extra chances, and they're obviously a good enough team to take advantage of those. Basically right now they've played good enough to be 3-1 and we've played good enough to be 1-3.

Q: Any concern the young players get the mindset, the negative mindset, seeing all the things that have happened to you guys?
A: I think the mindset is pretty obvious. Our clubhouse isn't particularly down right now. That's one of the cultures that we changed around here, because I think had I gone in my clubhouse tonight and seen everybody with their head down, to me that's a sign of a losing team. And the sign of a winning team is in there and goes about their business like they normally do.
Here's what I'd love to see in action sometime: a post concert interview session with members from traditional and new formats alongside patrons asking unfiltered questions and publishing unfiltered answers. I'm not aware of anyone that does this on a regular basis but if I'm wrong, I'd love to learn more about it!
Postscript: Given the fact that the Berlin Philharmonic is already broadcasting each performance online, perhaps they can work a US style post game interview session into the mix.

Post-Postscript: mixing sports content with traditional classical music concerts is not exactly a new idea. One of the best known (and entertaining) examples is Peter Schickele's 1967 New Horizons in Music Appreciation
.