It is easy to see the benefits of adopting a balanced budget requirement; it helps ensure fiscal stability, promotes responsible spending, and under certain conditions it can even serve to motivate contributed revenue development. But when balanced budget requirements are crafted with too much rigidity, they can harm nonprofit performing arts organizations during periods when they are most vulnerable. Unfortunately, we're beginning to see more and more examples as the 2009/10 season begins…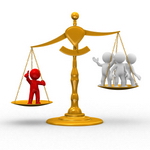 Although finer points vary from one group to the next, the basic scenario unfolds like this:
As a result of the economic downturn, an organization encounters a sizeable drop in investment and contributed revenue performance.
In order to contend with the revenue shortfall and meet the provisions of their balanced budget requirement, the organization institutes a series of cost cutting measures that reduces and/or defers operating expenses not governed by a collective bargaining agreement.
If these measures fail to produce a balanced budget, the stakeholders represented by the collective bargaining agreement are approached to reopen the contract (or if the agreement is set to expire within that budget cycle, conduct regularly scheduled negotiations with particular focus on concessions).
The stakeholders reject concessionary proposals and offer other concessions and/or revenue development conditions as an alternative.
The board/executive management rejects those offers and submits a final offer that maintains the same bottom line but shuffles some figures around; in turn, stakeholders reject the modified offer.
The organization is thrust into a period of organizational distress and relentless negative public attention.
Eventually, an insufficient agreement is reached and/or the organization suspends operations for a prolonged period of time. The consequence of which is years, or even decades, of hostile labor relations and a multitude of other unnecessary restrictions on reaching institutional potential.
Sound familiar?
The bottom line is that a particular brand of flexibility must exist throughout all levels of an organization that employs a balanced budget requirement. When approached with the right process, musicians and managers must be willing to accept provisional concessions but on the flip side, boards must be willing to defer balanced budget requirements in hard economic times. If either group of stakeholders attempts to deal with the economic downturn without this sort of flexibility, they stand to lose much more than the balanced budget requirement was designed to protect.
---
Postscript: Fortunately, there's an upside to this sort of balanced budget syndrome. At the same time, solutions are based around the intrinsic details related to each organization, so if your group is entangled in a seemingly no-win scenario, get in touch so we can see about bringing everyone together toward a win-win solution.