Holly Mulcahy posted an intriguing piece earlier this week about the perils of program substitutions entitled Sorry, we're fresh out of Mahler. The piece does an excellent job at expanding on some of the points covered in an article here from 9/3/2009 and one aspect I enjoyed most about Mulchay's article is how it uses culinary metaphors. As an added bonus, there is a terrific comment thread that produces entirely useful considerations and straightforward solutions for any artistic administration department wrestling with issues related to budget shortfalls and programming changes…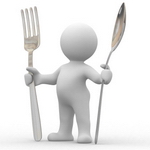 I hope you'll note both comments from Sticks and Drones co-authors Bill Eddins and Ron Spigelman. Eddins' comment examines the thorny, yet inevitable, topic of specific program valuation whereas Spigelman pulls out Occam's razor to provide some clear-cut perspective on how to avoid the thorns in the first place. I won't spoil the surprise here and you should really read the entire piece (it is short) along with the comments in order to get as much out of the discussion as possible.
Given that both perspectives come from established music directors, it provides some wonderful insight into how those responsible for masterwork (and more) programming approach this issue. It also reaffirms why Eddins and Spigelman are a fantastic duo for Sticks and Drones. IF you aren't already familiar with their blog (along with all of the blogs at Inside The Arts), you're missing out.