There's nothing quite a satisfying as a good resource list and the world of cultural blogging has a new entry they can be proud of thanks to Marc van Bree, author of the Dutch Perspective, a self described "levensbeschouwing (a Dutch word, by way of Germany, meaning "world view") based loosely on two themes: public relations and cultural affairs." Marc's resource list compiles classical music individuals and groups on Twitter…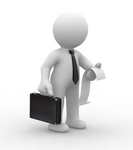 Categorized into People or Organizations, each containing several additional sub categories, Marc's list provides the twitter address as well as website URL and brief description. It's a veritable Who's Who of cultural tweeting. It is an invaluable tool for performing arts organizations looking to expand their social networking circles as well as anyone interested in staying in touch with those who help define the ever expanding online cultural community.
If you or your group isn't included on Marc's list, he has a handy form you can use to submit your information. Individuals can add or update information here while groups can use this form.
So make sure you take a moment to add Marc's List to your bookmarks today!