Since the unofficial theme for posts this week seems to be innovation (or lack thereof in some cases), it seems fitting to round things out by pointing over to a recent post from Ron Spigelman over at Sticks and Drones that proposes some interesting ideas about how to re-think the process of searching for a new music director…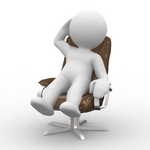 Although certainly not a universal constant, more often than not once a music director announces he/she will be leaving a post, they pretty much check-out when not on the podium. This isn't to say that the change in attitude is motivated by ill will; in fact, most conductors leave one music director post because he/she was offered a post at an orchestra with a longer season and greater responsibilities. As such, the natural tasks involved with the new position begin to pull the conductor away from the previous group.
Spigelman comes up with some thought provoking options and you should set aside some time to give them a read (although he credits me for some of this, he's the one who is really developing the idea in specifics).