Who doesn't like taking a look into someone else's office? I know I do and whenever possible, I like to take the time to profile some of better orchestra office spaces when the opportunity permits. At the end of the 2008/09 season, I spent some time in Springfield, MO working with the Springfield Symphony Orchestra (SSO) where I was struck by their office space. If you subscribe to a correlation between office space and productivity, you're going to be interested in what the SSO folks have accomplished…
Far too often, orchestras administrations allow themselves to be subjugated to the "low or no cost" office space solution. It usually breaks down like this: a donor/board member/city connection has some office space they can give to the orchestra for next to nothing. The orchestra thinks the solution will help their bottom line so they take advantage of the offer but they ultimately realize that you really do get what you pay for.
The result is working in dingy and depressing office space that sucks the productive life force right out of the employees. I would love to see a study some day to determine what sort of correlation exists between low quality performing arts organization office space, staff turnover, and productivity.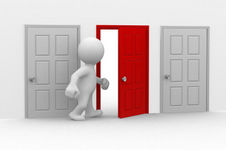 But I digress, back to Springfield. In order to really benefit from all there is to know, you'll need some back story. For a number of years, the SSO offices were located in the sort of building that most orchestra administrators know all too well: a free space that was greatly appreciated but not exactly conducive to maximizing productivity.
So when an opportunity came along to move several of the Springfield area arts groups into one building, the SSO decided to become a part of those efforts. Once a functioning creamery, the Springfield Creamery Company was transformed into the Creamery Arts Center; however, the SSO's new office space wasn't handed over in turn-key condition. Instead, the SSO had to raise the funds needed for design and construction.
Since the time frame for the project was relatively short the SSO planned, implemented and successfully concluded a capital campaign to pay for the infill costs in the space of approximately 12 months. The bulk of funds were raised via naming rights for the SSO complex as well as each individual office.
Having learned from previous experience, the design is far from bare bones and boasts a number of features that maximizes existing positive elements, especially natural sunlight. Each department receives a dedicated office and along with a reception area, kitchen, and storage space, the office features a large flexible use area occupied by several high tables (think ample space for library work, mass mailing prep, staff meetings, and even lunch).
Due to the building's original early 20th century commercial design, the office has a very loft-like feel; think lots of exposed brick and ductwork. The urban mojo is amplified by the fact that each enclosed office features floor to ceiling windows in the wall facing the interior common area. So with the exception of the storage room, the entire facility benefits from a great deal of natural sunlight.
The building features free parking for employees, is located adjacent to a meticulously maintained and lovely public park, and across the street is Hammons Field, a minor league baseball park that has won several awards since it opened in 2005. In a related note, the resident arts organizations in the Creamery Arts Center rent parking spaces during ball games to help offset common building expenses.
Overall, I found it to be a very comfortable place to work and it projects a very professional image to visitors and donors. It is an excellent resource for other organizations to explore when the opportunity to relocate comes around. Here's a firsthand look around the SSO office: