Cyber Monday may have been the official launch of online based holiday shopping but call me old fashioned, I just like to wait until the calendar officially reads December. As such, today marks the launch of a very special holiday sale where you can pick up the single best gift for orchestra folks money can buy; better than a Snuggie, better than a Snuggie for dogs, this gift will make you the hero of this year's office party…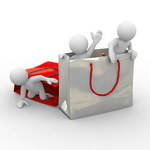 Buying gifts for office parties is usually more of a chore than real fun but this year you can finally buy something for your colleagues that will elicit genuine oohs, ahs, and uhhs. But wait, there's more. If you happen to be the unfortunate soul who pulls the bosses' name out of the Secret Santa hat, this gift has got you covered.
From now through December 24th, you can purchase a subscription to the Orchestra Compensation Reports at 20% off the regular rate. At that price, you can pick up one as your Secret Santa gift and one for yourself!
For those of you out there feeling especially generous this season and carry a soft spot in your heart for institutional transparency, I'll put together an extra special discount for subscription purchases of three or more. Just send me a note letting me know how many subscriptions you need and I'll put together a price plus setup each gift account for you.
The only resource of its kind available, the orchestra compensation reports provide detailed compensation data for 76 professional orchestras starting from the 1999/00 season though the most recent available season (updated each June).
Moreover, you get all of this for 20% off the regular price! Your special membership plan provides access to information for:
Executive Directors and CEOs
Music Directors
Concertmasters
Musicians
All data is presented in easy to use charts and graphs which include average compensation figures for each category per season as well as changes from one season to the next.