Thank goodness it has been awhile since the dirty little secret of just how easy it is for someone inside a nonprofit performing arts organization to misappropriate organizational funds has made headlines. And by misappropriate, I mean embezzle and by embezzle, I mean steal. Nonetheless, from across the Atlantic comes a report that the former Financial Director for the London Philharmonic Orchestra "siphoned off" just under US$1,000,000 over a period of four years. The indiscretion was brought to light after the organization executed an external audit…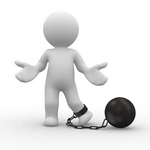 In a perfect world, performing arts organizations would have enough full time staffers to ensure proper oversight measures to prevent this sort of thing from happening as much as it does, but that simply won't happen anytime soon (unless congress decides all of the Sarbanes-Oxley rules should apply to nonprofit institutions). Nevertheless, the incident at the London Philharmonic demonstrates that looking over the shoulder of your finance officer is certainly worth the effort, even if you can't do it all the time.
Although most US orchestras conduct external audits on an annual basis, many use the same firm over the course of several years. There's nothing wrong with that; after all, rewarding good service with continued work contracts is just good business. But it makes sense to shake things up every now and then by using a different company or better still, conduct dual audits. Granted, this is going to be cost prohibitive for most groups but it is something for board members and CEOs to keep tucked away in the back of their mind, especially if an opportunity for some gratis accounting services comes around.
Until then, the economic downturn is doing a fine job at directing added scrutiny toward organizational finances. So in this bizarre instance, our troubles are our friend.