If there were ever an issue that musicians' unions, service organizations, and artist managers see eye to eye, it is the need for reasonable measures that allow musicians to bring their instruments on board the aircraft when traveling for business related purposes. Following the botched terror attack of a U.S. airliner over the holiday, airport security has ratcheted up to such a level that many musicians are being forced to check instruments. I've received at least a dozen notes from musicians since the incident and perhaps unsurprisingly, they are panicked over the increased measures…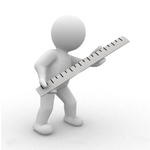 And given the airline industry's record of mistreating instruments, who would blame them? Last summer, musician Dave Carroll made national headlines when he released a video for his song United Breaks Guitars, which chronicles his ordeal with United Airlines after they broke his $3,500 guitar. Those inside the business know Carroll's saga all too well and even before increased security measures, the airline industry did a fine job at building a reputation of prescribed indifference toward complaints resulting from lackadaisical baggage handling procedures.
Unfortunately, musicians don't have many options. For example, train service is slow and expensive while driving has a limited practical range. The result is increased costs for everyone in the business; presenters, orchestras, artist agencies, ticket buyers, and last but certainly not least, the actual musicians. Consequently, individual musicians and the field as a whole do not have the resources to combat measures that blindly apply rules and regulations intended for public safety regardless of the impact.
Throughout this week, everyone in the business will be waiting with bated breath to see if the airline industry continues to enforce the restrictive rules, they resort to previous measures, or if the Federal Government will enact provisions that require airline carriers to allow musicians to bring instruments with them as carry-on baggage. In the meantime, musicians flying home from holiday jobs or after vacations and those with upcoming engagements will need to hope for the best but plan for the worst.