In what is shaping up to be a classic example of good intentions run amuck, the embattled Philadelphia Orchestra became the target of Philadelphia Inquirer Columnist, Karen Heller. In her 2/7/2010 article, she takes the organization to task over their new slogan and branded marketing campaign "Unexpect yourself." Although unabashedly frank in her analysis, Heller's observations are spot-on and exactly the sort of scrutiny this business needs at this point in time…
One of Heller's initial observations strikes at the heart of the problem.
"To stay relevant, you must embrace new ideas and new things," reads the copy about the 110-year-old orchestra at unexpectyourself.com. "You need a spark – a new place to visit. There is one place that will always remain timeless. . . . One of the most unexpected experiences in Philadelphia is located in Center City just steps from Broad Street and a world away from the ordinary – The Philadelphia Orchestra."

There's little mention of music.
The initial sentence, "To stay relevant, you must embrace new ideas and new things," is indicative of the sort of schizophrenia taking place in the business. Yes, discussions designed to identify and communicate how orchestras are relevant to their respective community are necessary and useful. In fact, I spent several days at a Summit a few weeks ago where that topic was of paramount significance. However, these discussions can become problematic when they detract from what organizations have refined for decades; that is, give concerts.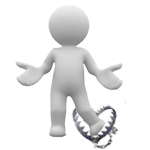 Heller continues to paint a picture of an institution in crisis and if that weren't enough, her sentiments are reinforced by additional reporting from Dan Wakin in the 2/9/2010 edition of the New York Times. Fortunately, crisis is a story where most of the critical action takes place in the second act so Philadelphia has ample opportunity to work itself free from the bear traps in act one.
In times of institutional crisis, dissuasion is an oft overlooked tool. Good crisis managers are experts at dissuasion, or the art of making things not happen. In Philadelphia's case, the task at hand is to prevent additional negative attention and begin writing their story of redemption and reaffirmation as a world class orchestral institution.
Enough with the identity crisis and mixed messages. If you've sincerely identified a fringe audience out there waiting to be tapped, you should know where they are and how to reach them. Stop trying to bring them in through association laden copy at static microsites and communicate with them as directly as possible. Use no uncertain terms to define who you are and connect what you do to their core principles.
Next Monday's post will examine this in a bit more detail via some useful material from Alex Ross, however, if all you want to do is persuade procrastinators to buy a ticket, work with psychologists and behavioral economists in lieu of marketing firms. You'll get far more bang for your buck.
Update 2/12/2010: More conversation on this throughout the culture blogging community here, here, and here.