One of the real challenges of communicating solely though print is the inability to rely on body language or inflection to convey intent. Case in point, in his Huffington Post article from 2/16/2010 Michael Kaiser writes that he is sorry for causing any arts manager grief if their institutional stakeholders pushed back against proposed artistic cuts using Kaiser's mantra that fiscal health and large, important artistic projects are not mutually exclusive…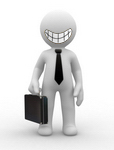 Yet throughout the post, Kaiser tempers his contrition by recounting reconfirms the very same position of programming and marketing cuts as a last resort. In the long history of apologies serving as a vehicle for subtext reasserting whatever it is that got someone into hot water to begin with, Kaiser's piece could certainly be considered a classic example. He opens up a little more in his closing statement.
"I am truly sorry that I have caused problems for my peers. My goal has been simply to make their lives easier by suggesting ways to increase revenue. It seems that I have failed."
Wow. It's like charientism had a head on collision with asteism. I only wish I had thought of it first.
Then again, perhaps I'm reading it all wrong (or maybe not). That's the trouble with written word.