Dan Wakin's article in the 3/3/2010 edition of the New York Times does an excellent job at reporting on the Moscow State Radio Symphony Orchestra's working conditions. According to his report, the musicians earn $40 per concert with no per diems and a number of the musicians go on record talking about unsatisfactory working and travel conditions. If this doesn't sound familiar, it should. At the end of 2005, conductor Volker Hartung and his Cologne New Philharmonic made international news after French authorities arrested and jailed him for two days as a result of breaking French labor law…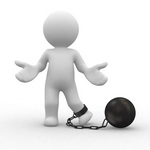 Ultimately, Volker was convicted of "clandestine work" and sentenced to three months in jail and a 10,000 Euros fine by a court in Strasbourg on 10/3/08. An article from that time by Frank Cadenhead reports the Strasbourg court determined Hartung had "fraudulent intentions" and "a logic of profit" in employing "foreign workers in unreasonable working conditions" and "avoiding social legislation." There are four articles about Hartung and this situation here at Adaptistration and a quick Google news search will turn up dozens more from sources across the globe.
It doesn't take long to see a laundry list of comparable items between the Cologne New Philharmonic activity on French soil in 2005 and the Moscow State Radio Symphony Orchestra's current US tour. However, one noticeable difference is no one within US law enforcement agencies seems to care as much as their French counterparts.
Wakin's article reports that Moscow State Radio Symphony Orchestra's artistic director declined to discuss musician payments and phone and email messages to the tour's producer, Andrew S. Grossman of Columbia Artists Management, went unanswered. However, Wakin did get in touch with Columbia Artists chairman, Ronald A. Wilford.
The Columbia Artists chairman, Ronald A. Wilford, said he was not familiar with the details of the contract. But he said that typically Columbia Artists, as a producer, receives fees from the presenters, who keep the box office receipts. Columbia Artists arranges travel inside the country and lodging, and guarantees the orchestra a set fee. "We have no idea what they're paying their orchestra," Mr. Wilford said of Moscow State Radio Symphony's management.
What do you think, is any of this a big deal? Was the French government overreacting when they arrested Hartung or should the US stand up and take notice? Do working conditions and compensation levels of foreign orchestras touring the US matter? Should US based artist management firms insist on the right to inspect artist payment records for orchestras and other ensembles involved in tours they produce?