As promised at the middle of last month, the new official resource site for the Take A Friend To The Orchestra program is up and running. The virtual ribbon was cut last night and you are now free to stop by and stay awhile. I'm very pleased with how this microsite turned out and like any worthwhile effort, it's designed to be simple to use, easy to navigate, and provide a variety of indexed search options. But most of all, it's designed to inspire…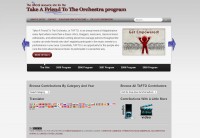 Not only are Take A Friend To The Orchestra (TAFTO) contributions indexed by year but you can now browse entries by type, 10 in fact. So if you want to read all the contributions from academics, you can get there in a single click. If bloggers are more your thing, it's the same deal and so on and so forth for broadcasters, composers, conductors, journalists, managers, musicians, patrons, and even playwrights (pretty diverse bunch, eh?).
One particular offering I'm thrilled to see return is the lost contribution from Marcus Maroney, which was only available in print as it served as the official forward for the collected TAFTO essays publication before it went extinct in favor of an online repository (another fatality in the online vs. print gang wars). At the very end of his contribution, Marcus penned what is perhaps one of the best lines in all of TAFTOdom, but you'll have to stop by the new site to read it.
Another plus with the new microsite makes it possible to associate each contributor's bio directly with his/her respective contribution so no more hunting around to find out about who's inspiring you. Lastly, all of the contributors have a headshot so you can see who you're reading.
So what are you waiting for? Go, explore, have fun, and get empowered!