Just because Venture is designed primarily as a comprehensive tool for marketing, box office, and development professionals that doesn't mean they get to have all the fun. Case in point, we're putting together flexible templates designed especially to help ops personnel communicate with artist/employees who aren't located in the administrative office. A common application for orchestras is a webpage that contains logistic and schedule information for musicians. What I'm looking for is input from personnel managers and other ops specialists about features you would like to see included in this component…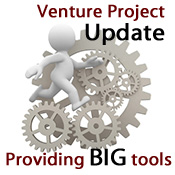 Here are some of the features currently on the development to-do list (excluding the geek stuff):
Password protected secure pages.
Simple to use, form field based entry to make formatting consistent.
Easy method for posting service schedule info.
Manage, create, and send complete or segmented email messages directly though the Venture Control Panel.
Provide material as downloadable files; think sheet music, sound clips, rehearsal schedules, run-out info, etc. (reduce shipping costs!).
Integrated Google maps.
Page optimization for improved end user use via smartphone.
The more Venture takes shape, the easier it is to see just how powerful of a platform it's becoming, especially when it comes to how easy it is to set up customized pages, input data, and manage a series of interconnected interior pages. Regardless of previous experience, ops personnel will benefit from an elegant solution to centralize communication and improve efficiency.
To that end, there will be plenty of tutorials and direct support to answer questions and teach users how to use provided features as well as create and customize their own templates (it can be addictive!).
The idea here is to create templates that suit the unique ops needs for each arts field so take a moment to send in your wish-list items as a comment or via email.