With the League conference in full swing this week behind the theme of Orchestra R/Evoluiton, it seems much of the discussion is focused outward: what orchestras mean to their communities, new business models, etc. It's fun to take part in visioning exercises but those are best left for times of economic stability and growth. What should be taking place is talk about Reformation, how those entrusted with governance and administration can adapt to do more during a time of less…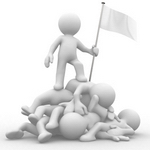 There's nothing wrong with looking outward but making substantial changes in strategic activity requires added resources and with a few notable exceptions, the average professional orchestra isn't flush with that much cash. But we can focus inward and find ways to provide tools, training, and services to orchestra managers and staffers working with beleaguered budgets and demoralized working conditions to deliver the institution's mission.
To that end, I see some encouraging signs but they are mostly all from sources outside traditional service providers. The ATHENA Project, an open source ticketing system, is a good start even if we won't see an end-use version for several months or more. Of course, the growing number of culture blogs, like Dutch Perspective, that hyper focus on specific niches within the business are also quite useful at providing nuts and bolts resources.
On my end, work on the Venture Project is wrapping up and a functioning product will be available by the end of the month. I have no doubt that Venture will have the same impact on the business of performing arts that Henry Ford's Model T had on the auto industry. It's simply that big of a deal. What I'm looking forward to the most will be watching managers become inspired and reaching new heights of productivity and achievement with less effort simply because they have tools, technology, and support traditionally available only to the largest budget organizations.
Once our collective houses are in order, the business will be in a far better position to turn our attention outward.