Have you ever wondered what separates a mere schmuck with a stick from a bona fide maestro? Are you strangely attracted by the magnetic charm of a cape and ascot? Are batons really more magical than magic wands? If you answered "Oh dear God, YES!" to any of those questions (who are you kidding, of course you did), then brace yourself for one of the most remarkable websites endorsed by one of the most mystical maestros of our time…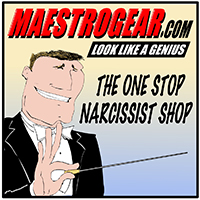 Maestrogear.com was officially launched on Sunday, July 11, 2010 and since then has received more than three million hits* due in no small part to its exclusive endorsement deal with Maestro Dirk Stent, Fort Fitzer Philharmonic (FFP) Music Director. Maestro Stent is widely known for his Toscannini-like rise to stardom when he stepped into the FFP's directorial void created when French guest conductor [name removed on advice of legal counsel] refused to conduct Seventy Six Trombones.
With a promise to patrons that he wouldn't' let them leave without a smile on their heart and a melody in their face, Maestro Stent charmed the crowd and shortly thereafter, the FFP board of directors unanimously appointed Maestro Stent as their next Music Director. From that point forward, Maestro Stent has left an indelible mark on classical music and his rumored multi-million dollar endorsement deal with maestrogear.com means his Happy Ending Guarantee™** can finally be spread outside the confines of the concert hall.
Visit maestrogear.com today and watch in awe as Maestro Stent puts the gear into action every Sunday at Who's Minding the Score?

*
Unaudited figure.
** Not an actual guarantee.