Now that primary development recently wrapped up, we've been hard at work getting Venture's sales and support site ready for launch. To that end, I'm happy to say that all things being equal, that should take place sometime between Monday and Wednesday next week…
If you haven't done so already, stop by Venture's placeholder site and sign up for the official launch notice. Venture is now on Twitter under the name "VentureTweets" so you can follow news and notices there as well. In the meantime, here's a pair of screencaps, the homepage and the top portion of the detailed plan comparison page, to show you what's in store: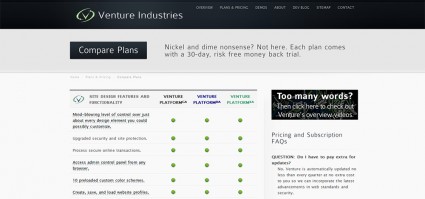 As the Detroit Symphony Orchestra enters into the final weekend of negotiations before their current contract expires, conductor Bill Eddins weighed in on the situation in a blog post at Sticks and Drones where he takes issue with a few things I've had to say on the topic. So head over and read what Eddins has to say and keep an eye on Detroit news over the weekend.