The 2010 Orchestra Website Review survey notices went out via email today but we all know that email is not the most reliable form of communication. As such, I need your help to make sure everyone included in the review has an opportunity to complete the survey. If you work in your orchestra's marketing or web/IT department, check to make sure your orchestra is completing the survey…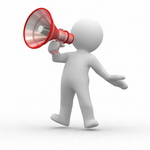 The surveys began as a way to make the reviews as comprehensive as possible, and each year they do exactly that by providing additional context and an opportunity for each orchestra to provide their peers and Adaptistration readers with details about their website that go beyond the items included in the review.
And since no good deed should go unrewarded, every orchestra that completes the survey receives a copy of the final report, which serves as a useful resource during planning sessions. The deadline to complete the survey is Sunday, October 10, 2010 so there isn't much time to waste. Send me an email to obtain a link to the online survey and to make it easier to gather necessary data, know that a majority of questions only require ranges; i.e. percents, dollar figures, ticket numbers, etc. So in order to help get you started, here's a list of survey questions.
What percentage, less employee salary, of your marketing budget is allocated toward all website activities? (answers in the form of drop down percent ranges)
What dollar amount, less employee salary, of your marketing budget is allocated toward all website activities? (answers in the form of drop down dollar ranges)
How many single tickets did you sell through your website for the 2009/10 season? (answers in the form of number ranges)
How much single ticket revenue did your website generate during the 2009/10 season? (answers in the form of drop down dollar ranges)
How many subscription tickets did you sell through your website for the 2009/10 season? (answers in the form of number ranges)
How much subscription ticket revenue did your website generate during the 2009/10 season? (answers in the form of drop down dollar ranges)
How much contributed revenue did your website generate during the 2009/10 season? (answers in the form of drop down dollar ranges)
How much other revenue (merchandise, recordings, etc.) did your website generate during the 2009/10 season? (answers in the form of drop down dollar ranges)
Is your website designed on-premises or by a contracted developer/firm?
Do you have the ability to make changes to your website directly?
Which box office software and/or arts enterprise software management products do you currently use? (answers in multiple choice and free form paragraph)
Which email marketing products do you currently use? (answers multiple choice and free form paragraph)