It seems that the ongoing Detroit Symphony Orchestra (DSO) work stoppage has reached an unfortunate, but not uncommon, benchmark in that both sides have resorted to accusing each other of failed leadership…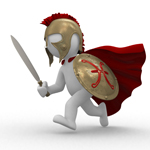 On the musicians' part, they held a press conference on the afternoon of 1/12/2011 to reiterate their willingness to bargain within the parameters defined by the Granholm/Levin proposal, a position that has been known since the proposal was made public a few weeks ago. As for the DSO, they claim the musicians have been "unwilling to negotiate or return to the bargaining table" (they even made it the title of a 1/7/2011 press release), but failed to mention that they are only willing to meet if the players agree to work within the financial parameters they have had in place for the past several weeks.
The latter point was clarified by Elizabeth Weigandt, DSO Director of Public Relations, in an email message dated 1/12/2011 replying to my inquiry about whether the DSO had any conditions on their offer to return to the bargaining table.
"…[the DSO's] original offer was $33 million and we moved from that to $34 on Dec. 4 and made further modifications to the terms.  And, yes, we were willing to continue negotiations along the parameters of $34 million and although we couldn't immediately accept the $36 million Levin/Granholm proposal due to the significant $2 million gap (unless sustainable funding could be found – which we are seeking), we said we would meet with the players at any point to negotiate."
With the PR filter removed, what that means is they might be willing to negotiate beyond their self imposed $34 million limit if someone gives them a carrot and they are more than happy to sit tight for the time being to see if that shakes one loose. Whether or not that approach is worth the risk has yet to be seen.
Following the musicians' press conference, the DSO issued their own press release condemning the musician leadership's collective judgment. The rest of the release is filled with the sort of charged rhetoric that adds even more fuel to the fire. However, observers may have difficulty seeing the wisdom of accusing the musicians of being more interested in launching attacks rather than reaching a settlement while simultaneously engaging in the actions they are condemning in the very same press release.
But wait, there's more.
In the musicians' press release from 1/12/2011 they begin by reiterating their willingness to negotiate within the framework of the Granholm/Levin proposal but they conclude by moving in a direction that may be as ill advised as the DSO's wait-and-see risk by publicly wagging a collective finger at the entire staff. Granted, quotes from Gordon Stump, Local 5 President of the American Federation of Musicians (the local which represents the DSO musicians) only singles out executives, but those direct quotes are followed up by mentioning the staff as a whole.
"In the meantime, senior executives should not be drawing one, thin dime of money donated by generous individuals and corporations to fund the production of music. Without any shows, they are essentially getting money for nothing and that's not good business in anybody's book." [said Stump]

For example the music director has been collecting $65,000 per week even though the orchestra has not been playing. That's $295,000 as of December 19th. The entire DSO staff has been collecting full salaries for three months in which there have been no concerts to produce.
Traditionally, it is not unusual for musicians to question compensation of senior executives during labor disputes and as individuals who are tasked with the organization's strategic responsibilities, they are fair targets (just as the elected musician representatives are fair targets for management). But to associate staffers, a group of individuals that have zero authority to make strategic decisions, under the same context isn't going to help bring the dispute to an end any sooner and it will almost certainly make mending fences once (if?) it is settled that much harder.
If there is anything here worth salvaging it is the hope that both sides in this dispute learned an equally valuable lesson and will refrain from issuing such poorly thought out statements from here on out. Ideally, both sides will issue retractions but I'm not holding my breath on it; so at this point, both sides appear to deserve one another more than ever.
Postscript: I did ask Elizabeth Weigandt for verification of the musicians' claim that DSO music director Leonard Slatkin has been drawing a full salary throughout the course of the work stoppage but her reply neither confirmed nor denied those claims.
Lastly, the Detroit Free Press published an article by Mark Stryker and the Detroit News published an article by Michael Hodges which covers this topic in additional detail and we'll try to cover the whole "is it or isn't it a contract offer" debate  in tomorrow's post.