There was a fascinating Super Bowl advertisement from Chrysler Group LLC. Although the ad was designed to see the new Chrysler 200, the ad's star wasn't the car, it was the literal city of Detroit; its perseverance, independence, and its strength among world class competitive markets…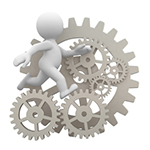 It would be difficult to argue that the commercial isn't well produced to the point where it is almost a mini-cinematic feature. But what's worth noting is how prominent performing arts imagery can be found throughout the spot and the distinct lack of sports references.
Performing arts references:
A Gospel choir
The Fox Theater
A Rap artist
Sports references:
A Figure skater (and even that overlaps with performing arts more than not)
Otherwise, the imagery is includes everything from gritty industrial landscapes to iconic public sculptures. One of the commercial's tag lines, "Luxury is as much about where it's from as who it's for" is a particularly interesting angle as it places value on "where and who" as much as "what." It underscores the value of the people who made the city what it is.
That hard work and conviction and the know-how that runs generations deep in every last one of us <pause> that's who we are. That's our story.

It's probably not the one you've been reading in the papers. The one being written by folks who have never even been here who don't know what we're capable of.
Chrysler projects an image that is a stark contrast from some of the messages about the city and its automaker driven economy coming out of the Detroit Symphony Orchestra (DSO) labor dispute. Watch the ad below and weigh in with your thoughts and observations. Is Chrysler just injecting a PR placebo into a community that is really just down for the count, do they offer a vision that should be adopted by the DSO, or something else?