Proper Discord posted another one of their so-true-you-have-to-laugh videos the other day. The latest installment focuses on the all too common practice of overloading an orchestra website's homepage.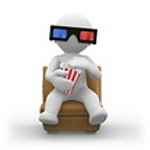 Granted, there was a day and age when loading up the homepage was actually considered best practice. In the days when design was limited to static content, site visitors were used to scrolling down (down, down, and down) a homepage to catch what was going on. But times change and the advent of Smartphone browsing where screen real estate is once again considered precious and the term "page fold" (the amount of content a user sees on a page without having to scroll) is a part of regular design vocabulary means that less is more.
The vast majority of users these days don't want to be bothered with much information outside of "Who, What, Where, How, and When" related info on a website's primary landing page. If they are interested in learning, more, they will start digging through internal pages.
Fortunately, there are a few design tools that becoming increasingly more common that help groups do more with fewer pixels to push around. In particular, sliders are an excellent tool that is far more flexible than most folks realize. Moreover, they work equally well on desktop/notebook browsers as Smartphone platforms and provide a solution for keeping users (i.e. ticket buyers) engaged without requiring them to leave the homepage.
Notice: shameless self promotion to follow
(but don't worry, it is sincerely relevant)

Simply put, sliders are such a useful tool at this point in time that I made certain to not only include them when designing the Venture Platform, but we expanded on the traditional approach by creating a system that actually incorporates slider elements in the form of stylish overlays that carry over as site-wide page design elements. I'm very pleased to say that our "slider overlay to design" element idea has been a real hit with users so far with the vast majority snapping it up right from the first steps of their content planning and design process. Here are two examples that illustrate this idea, the one on the left is from the Chicago Sinfonietta website and the one on the right is from Baroque Band website:
As it turns out, both groups liked the "Swoosh" overlay best but there are actually several graphic element options included with Venture plus users can upload their own graphic element to use as overlays that match or reinforce their branding goals.
Coolness aside, a slider is only as valuable as it is easy to use. So to make sure users get everything out of sliders they can (and to prevent them from turning into static, digital image billboards) we put together one of the most user-friendly slider management systems around. In short, it makes creating new slides as easy as possible so content can be regularly updated right from the admin panel via point and click simplicity. If you can use a word processor and Twitter, you already know how to use the controls. There's no need to wait for anyone else to put it in place for you.
And perhaps the best part is if you don't want to use sliders or the stylish overlays, you don't have to. Users have direct control over turning the functionality on and off right from the admin panels at any point in time and changes are instantaneously pushed out to what the user sees. If your current system doesn't provide that sort of direct control over design and style, why not?
Venture's slider control functionality even has its own sales page and if you're in the mood for something more to watch, it even has a demonstration video.
If you can't already tell, I'm pretty damned proud of this system and it's already having a tremendously positive impact on how easy and affordable it is for arts groups of all budget size to create enormously effective websites at costs that are fiercely competitive thanks to a responsible business model that favors sustainability over blind profit margins. Feel free to get in touch if you want to chat about what your organization needs or to learn more about everything Venture provides.