If the name Dietmar Machold doesn't immediately register in your mind, no worries. That likely mans you aren't involved or watch the high end string market very closely. But long time readers might recognize his name from the New Jersey Symphony Orchestra (NJSO) golden instrument debacle from 2006 where Machold played a key role in those developments. As it turns out, Mr. Machold was recently arrested to face charges of fraud and misappropriation…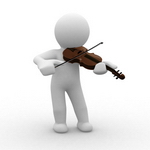 The Strad reports that Machold was arrested by Swiss police on behalf of Austrian authorities.
Violin dealer Dietmar Machold has been arrested in Switzerland. Swiss police acted on behalf of Austrian investigators, who want to extradite the German-born owner of Machold Rare Violins to Austria to face charges of fraud and misappropriation. Machold is now in custody in a Swiss jail as authorities in the two countries work out extradition procedures.
If you want to catch up on Machold's role in the NJSO scandal (along with his partner in those affairs, Herbert Axelrod), check out Adaptistration's article archive here that mention Machold by name.