Talks between the Detroit Symphony Orchestra (DSO) and its musicians resumed over the weekend in the first round of negotiations since the organization nixed the remainder of the 2010/11 planned concert season. A 4/1/2011 deadline set by the DSO on whether or not to cancel scheduled summer concert obligations passed without a decision as both sides agreed to return to the bargaining table over the weekend.
Update, 8:44am CT: a tentative agreement has been announced, details here and here.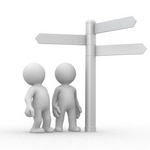 According to reports in the Detroit Free Press by Mark Stryker, an initial marathon meeting lasting just over 17 hours took place on 4/2/2011 and talks resumed again the following afternoon. According to the Free Press and reports from the Detroit News written by Michael Hodges, both sides agreed to return to the bargaining table per terms crafted by a third party intermediary.
The decision on whether or not to cancel the summer series concerts is temporarily on hold until the talks conclude and as of now, an announcement on those issues and more may appear as early as today. At the same time, the talks may result in no decisions whatsoever but we'll keep an eye on things throughout the day and post an update if there is any breaking news.
In the meantime, what do you think transpired over the weekend?