Let me begin by issuing a giant thank you to everyone who took an early interest in this project and I'm very pleased to announce that today marks the official launch of Adaptistration Jobs, which I'm sure will rapidly become the go-to online resource for finding administrative openings in orchestra, opera, and chamber groups. Not only is the site powered by one of the most sophisticated jobs board platforms available, it's entirely free to use…
That means no fees to post jobs, no fees to search though listings, and no fees to apply online right from any listing. In fact, the only fee (a $25 featured status upgrade for listings) is entirely optional and limited to no more than two on the entire board at any one time. At a time when arts organization are watching bottom lines closer than ever (as are the people who work in the field), this service fills just the right need at just the right time.
Take a look at how Adaptistration Jobs stacks up against other arts jobs boards.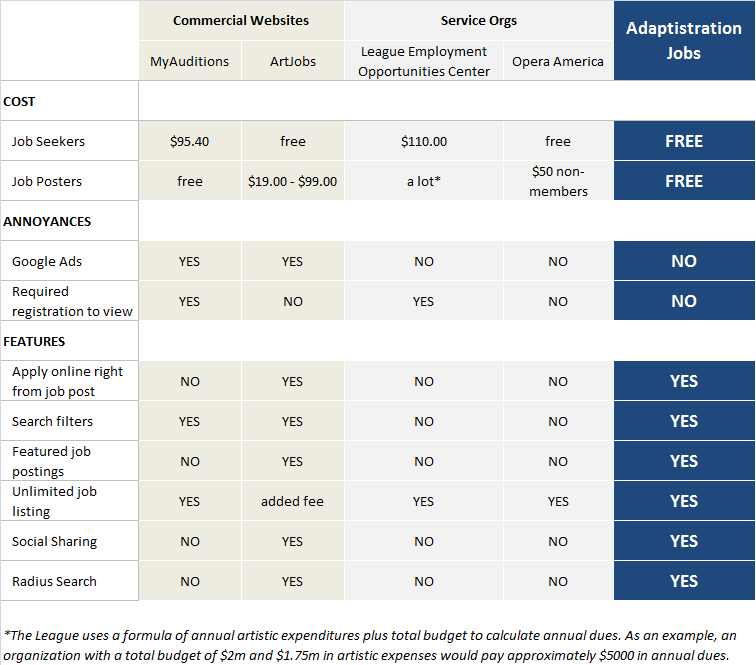 Combine all of the above benefits with Adaptistration's mammoth amount of daily traffic from orchestra managers across every sector of the field and it's clear that this will be something fantastic.
The site will be a continuously evolve as it grows to accommodate improved technology standards and user suggestions. To that end, I encourage everyone to post their ideas and suggestions at the Make Us Better page. And to help maximize positive impact, I'm allowing nonprofit organizations to syndicate any part of Adaptistration Jobs' content free of charge, we'll even help you set up the pages at your website (tip: a perfect solution for regional service orgs). The complete details are available at the Syndication page.
NEXT STEPS
Bookmark https://adaptistration.com/jobs.
Follow @AdaptiJobs at Twitter to stay on top of the latest job listings and special notices.
FaceTweet everyone you know about Adaptistration Jobs.
Submit a job if you have an opening at your organization or group.
Spread some love by posting a banner to Adaptistration Jobs at your blog or website .
That was pretty easy, wasn't it?