It seems that a number of folks throughout the culture blogging community are taking issue with what could perhaps best be described as the Chicken Little Think Tank, or the group of voices within the field that seem determined to convince all of us that resistance is futile. Apparently, these efforts have pushed some over the edge of discontent to the point where they are not just resisting, but pulling some serious punches of their own…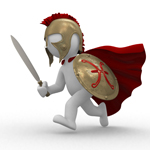 First up is an article from 5/11/2011 by Robert Levine titled A crisis of analysis. I'm not entirely certain the term vivisect can apply to blog post but it sure seems like that's precisely what Levine does to Tony Woodcock's article American Orchestras: Yes, it's a crisis in a way that can best be described as, well, Levinian. Levine drills in on more than a dozen of Woodcock's points and although it's a long piece, it's worth the time investment.
Next up is a growing sect within the culture blogging community in that some reader comments can easily stand on their own merits as a dedicated blog post. Case in point, a comment from Cleveland Orchestra bassist, and NEC alumnus, Henry Peyrebrune to the same article from Tony Woodcock that Levine examined.
In full disclosure, Peyrebrune has been a guest author here from time to time, most recently in a set of articles from March, 2011. In fact, he references one of those posts in his comment. But unlike Levine's article, he does filter out what he believes are salient points that are buried under the noise of Woodcock's rhetoric and faulty premises. For my money, Peyrebrune is one of the most level headed people in the business and a very deep thinker.
Next up is one of my growing favorites, Proper Discord. On 5/6/2011 he takes 24/7 Wall St to task over an article they published titled The Death of Classical Music in America. But what makes Proper Discord fun in his discontent is how it is so often wrapped in dry, thin wit. In this case, he applies some liberal (digital) red pen to their article in order to illustrate what he defines as "a lot of unverified, unquestioned assertions."
Rounded out our Spring of Discontent is Barry Johnson who published a compelling missive at arts dispatch on a variety of Chicken Little Think Tank oriented issues as they relate to the Philadelphia Orchestra bankruptcy. I have to take a step back here for a moment to point out that Johnson references my writing…a lot…and he takes a very positive outlook toward it.
For that, I am enormously humbled.
But even if you remove any reference to my writing, Johnson's piece is every bit as compelling (another good reason why it stands on such firm footing) and offers another unique juxtaposition to standard Chicken Little Think Tank output.
So what are you still doing here? You have reading to do:
AN IMPORTANT POSTSCRIPT! I knew it would happen but thankfully, online publishing makes it easy to correct omissions and in this case, I left out a few absolutely fantastic contributions to this overview. For starters, the absolutely fantastic piece by Soho The Dog titled He went through wild ecstatics when I showed him my lymphatics that challenges Greg Sandow and Baumol's Cost Disease. The article contains what has to be hands down one of the best ever written on the subject:
I love the cost-disease… It's catnip for ruminators: a simple idea that gets less and less simple the more you poke at it.
Absolutely include this one in your reading list today.
Also overlooked was a great piece by Eric Edberg titled Maybe it's a babysitting crisis, not a classical music one which also picks at some of Greg Sandow's regular Chicken Little Think Tank talking points about audience demographics. It's an all around thoughtful piece.
Update 5/14/2011: I'm going to get in trouble for forgetting this one but better late than never. Holly Mulcahy posted an excellent article at the beginning of May titled simply Sustainability. It's particularly poignant in that it not only offers a contrary view to the Chicken Little Think Tank perspective but it focuses specifically on some crucial shortcoming in the world of classical music academia.
Am I missing anyone else?