We all know that the 2008/09 season was the first to endure the brunt of the economic downturn but that doesn't mean the average music director didn't enjoy at least a small bump in compensation just under two percent. At the same time, compared to executives, and to a lesser degree base musician compensation, music directors experienced the smallest increase of any stakeholder…
WHAT'S NEW FOR THE 2011 REPORTS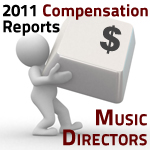 Thanks to the use of dynamic sorting tables, the 2011 Orchestra Compensation Reports can combine and display all of the data from both ICSOM and ROPA executives in a single chart. This means you can interact with the data and arrange it in a variety of ways; high/low compensation figures, total expenditure, conference or group, alphabetic by name, etc.
WHERE THE DATA COMES FROM
In order to provide information that is as accurate as possible, data from the 2008/09 season is gathered from the following sources:
Music director compensation figures were obtained from their respective orchestra's IRS Form 990 for the 2008/09 concert season.
Total Expenditures were also obtained from each respective orchestra's IRS Form 990 for the2008/09 concert season.
Adaptistration makes no claim to the accuracy of information from documents compiled or reported by external sources. If you have reason to believe any of the information is inaccurate or has changed since reported in any of the above sources and you can provide documentation to such effect, please feel free to submit a notice.
All but a handful of the IRS Form 990's provided by guidestar.org had a notice indicating that some of the compensation information may not be accurate.
WHAT THE NUMBERS DON'T SHOW
It is important to remember that the numbers shown do not always convey a complete compensation picture. For example, a music director may have had a large increase in salary due to leaving a position and per terms of the employment contract, may have received a sizeable severance or deferred compensation package. As such, the cumulative compensation may artificially inflate annual earnings.
Furthermore, these figures may not reflect bonuses or other incentive payments, therefore underreporting what conductors may actually earn nor do they include combined salary figures for conductors serving as music director for more than one orchestra. Also missing from the figures are expense accounts and other perks; as such, the cumulative compensation for music directors may or may not be more than what is listed. Additionally, the documents used to gather data do not indicate how much of the season an individual received a salary. As such, excessive adjustments in the percentage change from the previous season's compensation may be artificially adjusted.
Although the music director compensation figures include the combined amounts reported as what the IRS classifies as "compensation" and "contributions to employee benefit plans & deferred compensation," each orchestra does not always report figures for the latter category. Additionally, some organizations list music director compensation among the five highest paid private contractors as opposed to employee compensation. In these instances, no information about benefits or deferred compensation is available. Finally, in instances where music directors also perform as a featured soloist with their ensemble, these fees are sometimes negotiated under separate contract for others, they are included in their music director contract.

QUICK FACTS

From the 2007/08 to the 2008/09 season…
the average ICSOM music director compensation increased 2.20 percent. This figure may be slightly higher or lower due to the Cincinnati Symphony Orchestra failing to provide Music Director compensation data on their 990 (as well as failing to respond to inquiries).
the average ICSOM base musician compensation increased 3.36 percent.
the average ROPA music director compensation increased 0.78 percent.
the average ROPA base musician compensation increased 1.04 percent.
TOP 10 EARNERS

ICSOM
New York Philharmonic: $3,291,791
Boston Symphony: $1,767,748
San Francisco Symphony: $1,588,816
Los Angeles Philharmonic: $1,195,145
Philadelphia Orchestra: $1,161,000
Cleveland Orchestra: $1,124,033
Minnesota Orchestra: $1,039,479
Saint Louis Symphony: $837,628
Seattle Symphony: $785,113
Baltimore Symphony: $711,626
ROPA
Pacific Symphony: $354,260
Grand Rapids Symphony: $240,921
Los Angeles Chamber Orchestra: $194,000
Hartford Symphony: $185,368
Dayton Philharmonic: $163,619
Rhode Island Philharmonic: $156,123
West Virginia Symphony: $140,486
Omaha Symphony: $135,800
Knoxville Symphony: $133,408
Chattanooga Symphony: $130,888