Although there's no denying the tabloid nature surrounding salary reviews, that's not what the annual Orchestra Compensation Reports are all about. Instead, one of the cornerstones is to get people thinking about accountability and to that end the data, in and of itself, tells no tales but it should generate some questions…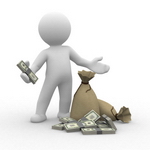 For example, an executive that successfully maintains institutional stability without instituting massive budget cuts, sacrifices (or conveniently redefining) artistic accomplishment, preserves labor harmony, and maximizes potential for a multi-million dollar performing arts organization during one of the worst economic downturns since the Great Depression deserves just about any increase you can throw his/her way.
Executives like Chicago Symphony's Deborah Rutter and Nashville Symphony's Alan Valentine, who received 15.87% and (only?) 3.15% respectively, are the poster children for this concept.
But then there are questions that arise from seeing figures like the 9.46% increase given to Detroit Symphony's Anne Parsons during a period that, we now know through hindsight, the organization knew troubled times were on the horizon.
This information is designed to get people thinking about the current system of nonprofit governance and how it relates to setting compensation levels. In essence, it's a system that is entirely self governing with no independent oversight and when combined with an environment where just about everyone is working harder than ever before, how the task of accountability and review become easily co-opted by rewarding effort over achievement.
In the end, it is important for stakeholders and the community in general to have a better understanding of what's involved with maintaining a professional orchestra and insist on accountability. Questions lead to transparency and ultimately (hopefully?), improved governance.
For a more exhaustive examination of this subject and just how much it impacts the future of the entire field you absolutely, positively must read Matthew, Soho The Dog, Guerrieri's post from 6/20/2011 entitled "Salient solution" (as soon as you're done here). In short, it's brilliant.
But enough commentary, let's revel in a little analytical goodness.
After it was all said and done, the 2008/09 season didn't have a single stakeholder group backtrack in average compensation although one sub-group, ROPA musicians, made marginal headway. The clear winners were executives (5.43%), followed by a much tighter pack consisting of concertmasters (3.65%), musicians (2.20%), and music directors (1.49%).
To get a sense of exactly how those figures relate to one another, take a look at the following chart, which breaks down the average increases and how they compare from one stakeholder to the next.