It's always nice to get recognized for being interesting and unique and to that end, it's an enormous honor to get singled out for those very reasons by WPCandy; one of the go-to WordPress communities, in their Behind the Site series. Granted, unless you regularly dip your toes into the world of binary code in all of its open source goodness, you're probably wondering what the heck all of this means.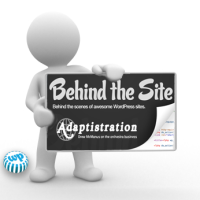 Simply put, WPCandy is to the open source WordPress community what Gramophone is to classical music audiophiles or The Strad is to string aficionados. So to have WPCandy feature Adaptistration not for its content, but for user interface (UI), user experience (UX), and what's under the hood is enormously satisfying on a deeply geek-centric level.
And if everything that makes Adaptistration what it is (which is still an entirely unpaid outlet I work on in my spare time, mind you) can draw the attention of folks like WPCandy, imagine what something like The Venture Platform (a project I focused a great deal of my professional time and effort on developing) can do for arts groups.