The National Arts Marketing Project Conference (#NAMPC) is next week and it's shaping up to be a good time. Yes, for those in the orchestra field, the fact that it's Louisville is more than a little ironic but I'm looking forward to spending a few shop talk filled days in Fall City, wait too ironic; City of Beautiful Churches, there, that works.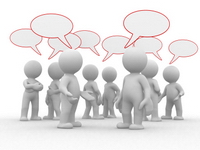 First and foremost, if you haven't registered yet, get on it and get yourself a hotel while you're at it. I got in too late for the conference rate at the Marriott but found a great deal for $100/night at the Brown Hotel through Hotwire (and from what I hear it's a nice place). Next, start putting your networking schedule together. About a third of my time is booked but if you're interested in finding time to talk shop, talk tech, or just have some fun, drop me a note.
I'm leading a Dine-Around event on the evening of the 14th but other than that, I'll be around the usual sort of conference haunts most evenings. If you can't attend, you'll be able to follow the tech session I'm participating in via Twitter at #uglywebsites.
By and large, I don't get out to very many non-orchestra focused conferences so I'm curious to see how this one unfolds. Diane Ragsdale posted an article back in March, 2011 expressing frustration with the traditional conference model and most of us probably feel her pain. But we still go and every now and then get ambushed by a truly fresh conversation; I'm hoping that's exactly what #uglywebsites will be and based on the group's planning to date, it should be chocked full of stuff you usually don't hear at conferences.
Think of it like an arts tech variation on Occupy Wall Street but without all the angst, a much clearer message, and a conspicuous absence of cardboard signs. Plus it's indoors.
So make sure you set aside time for the #uglywebsites fun from @CeciDadisman, Kimberly Clark, @DDombrosky, and yours truly (@adaptistration) on Sunday, November 13, 4:00pm – 5:30pm ET.