For the last several weeks, the Stop Online Piracy Act (SOPA) has become a hot topic of debate within the House Judiciary Committee. In a nutshell, SOPA is a proposed law lobbied for and supported by a large conglomerate of media organizations and sponsored by Representative Lamar Smith (R TX). On one hand, the law is addressing something of real concern; online piracy. One the other hand, its solution is akin to killing the patient to cure the disease.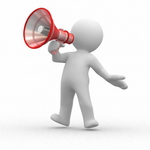 Supporters include outfits from Viacom, to the National Football League, to Time Warner but in addition to those giants you can include a cross section of organizations related to the orchestra field, such as the American Federation of Musicians AFM), American Society of Composers, Authors and Publishers (ASCAP), and Broadcast Music, Inc (BMI) along with a small host of related industry unions.
Those in opposition include organizations on the content delivery side of the equation including heavyweights such as Google, Facebook, Twitter, PayPal, AOL, and eBay.
Although the issues are not simple enough to summarize in a pros and cons list, what makes SOPA such a bad deal is a combination of special interest driven language that would give unprecedented authority to the Justice Department to create and maintain a national firewall more restrictive than the one utilized by the Chinese government.
The intent of the mega blacklist is to protect US copyright holders; and although the intentions may be sound, the implementation is outright draconian and has real potential of damaging the fundamental nature behind how the internet functions.
Currently, discussion and potential action on the bill has been postponed until Congress returns from its winter recess and in the meantime, I strongly recommend that everyone do their own due diligence (just do a Google News search for "SOPA"). If you're so inclined, you can take part in one of the dozens of efforts to contact your respective US Representative, like this one from Daily Kos.
Here's What You Can Do to Help
I'm advocating that everyone take a moment to contact the organizations connected to our field that support SOPA and encourage them to immediately withdraw their support in favor of legislation that adequately addresses the real concerns connected to online piracy without simultaneously damaging the internet, putting freedom of speech at risk, and harming the potential for professional orchestras to operate online.
[sws_red_box box_size="650″]
American Federation of Musicians
Ray Hair – President

presoffice@afm.org

Phone: (212) 869-1330, ext. 212

Fax: (212) 768-7452
[/sws_red_box]
[sws_red_box box_size="650″]
American Society of Composers, Authors and Publishers (ASCAP)
Unfortunately, ASCAP's website does a terrible job at providing contact information for their board of directors and executive administrators (so much for transparency). If anyone has verifiable contact information they can send along, I'd be grateful and will post it in lieu of the general contact info.

ASCAP Headquarters

One Lincoln Plaza

New York, NY 10023

(212) 621-6000

Fax: (212) 724-906
[/sws_red_box]
[sws_red_box box_size="650″]
Broadcast Music, Inc (BMI)
Same deal with BMI; if anyone has direct business contact info for Del Bryant, BMI President & CEO, thank you in advance for making it available.

nashville@bmi.com

10 Music Square East

Nashville, TN 37203-4399

(615) 401-2000
[/sws_red_box]
[sws_blue_box box_size="650″]
Additional Options
[/sws_blue_box]
If you need some content for your email message, feel free to use the following (which is an edited version from a similar letter originally appearing at Daily Kos):
I was disappointed to learn that your organization is supporting  HR 3261, the Stop Online Piracy Act, also known as SOPA  and I am writing to you today to implore you to withdraw your support. Online piracy is a real problem but SOPA is not the solution.

This bill is being rushed through Congress without proper vetting. Scrap it and start over next Congress. With so much at stake, slapping up a bunch of band-aids on it now is dangerous business.

Sincerely,